INNELLAN BOWLING AND TENNIS CLUB
---
Tennis Section
---
TENNIS COURTS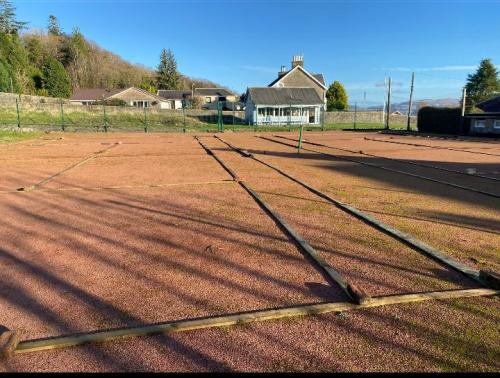 The Tennis Courts are now closed for the season. It's been great that the Courts have been open until now.
Some of the Tennis Ladies have been along the past few days removing the nets & preparing the courts for the close season.
We look forward to our 2024 season for both bowling & tennis.
---
DRUMMOND TROPHY
(Bowling & Tennis)
Eight members took part in the bowling & tennis tournament today for the Drummond Trophy.

After a closely fought fun afternoon, the winners were Liz Gower & Jim Morgan. Congratulations to them.

This was followed with a lovely afternoon tea. Thanks to everyone who came along.

Myra
Secretary
MEG HENRY MEMORIAL ROSEBOWL TOURNAMENT

L-R Stuart Adams, Liz Gower, Tom Henry,
Jaroslaw Michalak & Helen Waddell

L-R Tom, Janice, Graeme,
Innes & Robin, The Henry family

L-R Graeme & Innes Henry looking at the Champions Board
The Meg Henry Tennis Tournament was held on Saturday 22 July. This is only the third year of the tournament, as we missed 2020 & 21 due to COVID.
Meg's family were out in force, with son Graeme & grandson Innes taking part this year too. They were even dressed for the occasion in their 'Meg/Granny Tee Shirts'. I'm sure Meg would have approved.
There were 18 entrants from IBTC, Castle Tennis Club and visiting family members. 3 rounds of tennis were played followed by afternoon tea before the semis & final.
Congratulations to the winners, Liz Gower and Stuart Adams & the runners up Helen Waddell and Jaroslaw Michalak.
A good fun afternoon with lots of folk watching and thanks to everyone for organising & running the event & providing goodies for the afternoon tea.
A nice way to remember Meg!
Myra
Secretary
(with help from Liz & Elaine)
TENNIS MID-SEASON UPDATE
The tennis season is well underway with the club championships now drawn and games to be played posted in the tennis pavilion. This competition continues over the summer. The Meg Henry trophy, open to all locals, will take place on Saturday, 22 July, meeting at 1.30 for a 2pm start. Afternoon tea contributions from club members will be gratefully received.
Unfortunately, it has not been possible to organise junior tennis activities this year, though junior members are welcome to use the courts at any time. Those under 11 should be accompanied by an adult member.
New members are always welcome - please see the club's home page for details how to join. Here's hoping for some good weather in July and August!
---
OPENING DAY 2023
---
MIXED DOUBLES 2023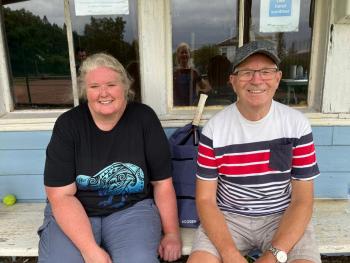 The tennis section was delighted to bring back the Mixed Doubles Championship on Saturday 8 July.
Following some good games, the winners for 2023 were Kat Ross & Jim Morgan.
Congratulations to them both.
Myra
Secretary
---
SATURDAY 22 JULY 2022 - MEG HENRY MEMORIAL ROSEBOWL (DOUBLES)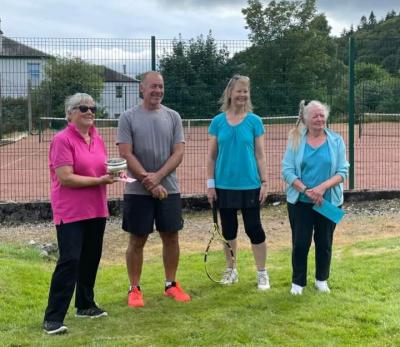 Winners & runners up of The Meg Henry Memorial Rosebowl 2022
---
TENNIS NEWS
Last year's (2022) tennis season was an enjoyable and friendly one. We welcomed some new members, of differing ages, which was grand. As usual, the members helped to maintain the blaes courts, fundraise for new fencing and equipment and assist new members with any help required.
We had a very positive link up with staff from 'Active Schools' in Dunoon who led some sessions for primary aged school children. These were designed to foster skills for playing tennis e.g. hand-to-eye coordination and balance exercises. These were great fun and the children really enjoyed them. We were also given helpful input from 'Tennis Scotland'. We are still looking into the possibility of offering support for Junior Tennis Members for this season. Further information will be given if this can take place.
Throughout the summer we held our regular informal tournaments – The Meg Henry Rosebowl, the Drummond Trophy and the Ladies' Singles and Doubles tournaments. These were all played with good humour and fun. We also held an Open Day (along with the Bowling Section) to encourage more involvement with the local community. This was enjoyed by all. We had beautiful weather, lots of visitors and members playing, and ended the day with a splendid afternoon tea and a raffle. These events will, hopefully, be taking place this year. The dates will be available soon.
To conclude, a reminder that the blaes courts are open at all times. (An info sheet re membership fees and charges for visitors is visible beside the tennis pavilion door. These fees obviously go towards keeping the Club functioning.)
A 'WhatsApp' group is also available for tennis members to arrange practice matches and pass on any tennis news. Needless to say, we are looking forward to another dry (!) enjoyable and successful season in 2023.
Copyright © 2012 - Innellan Bowling and Tennis Club, Shore Road, Innellan, Argyll and Bute, PA23 7SP