INNELLAN BOWLING AND TENNIS CLUB
---
Tennis Section
---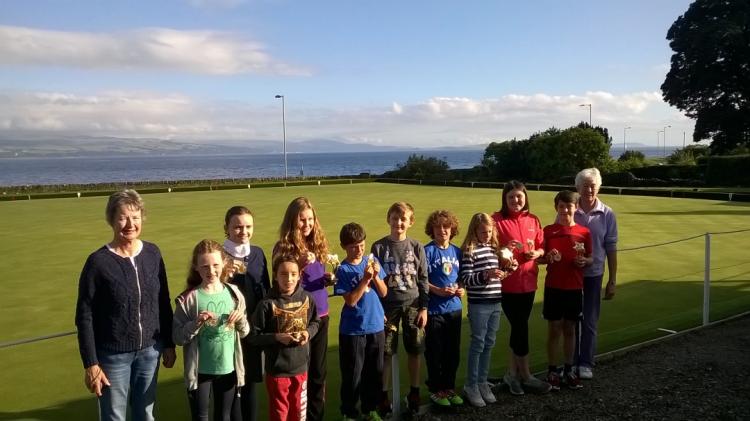 Some of the Junior Tennis players and Coaches
---
The tennis section has a slightly longer season than the bowlers, running from opening day in April until October, or sometimes November each year, depending on the weather. There are two red blaes tennis courts (as used in the French Open). We ask that all players should wear flat-soled shoes as the surface can easily be damaged by shoes with a rough tread. New members, both senior and junior are always welcome as are visitors. Free coaching is available.
Club sessions take place on Wednesday evenings from 7pm and Saturday afternoons from 3pm. Members can make their own arrangements to play at any other times. There is an annual mixed doubles tournament which is open to anyone in the community as well as members of other clubs. This is usually a popular event due to the substantial afternoon tea provided by members. The club championships run throughout the season and culminate in a prize-giving shared with the bowling section in November.
The junior section is open to all children from age 8 and above. Junior members may arrange to play at any time and there is also a dedicated Junior night every Monday (weather permitting). There are two groups: those at primary school come from 5 - 6.30pm and those at secondary school from 6.30 until 8pm. Free coaching is provided and a tuck shop is run on Monday nights. The junior championships are hotly contested and held at the end of the season. Children of primary school age are entitled to free membership if they have a parent who is a member of the club.
Tennis for juniors is on Monday evenings starting at the end of April when coaching will be available - primary school age group (8+) from 5 - 6.30pm and secondary school age group from 6.30 - 8 pm . New junior members are welcome. Why not come along and give it a try - no need to have all the equipment at this stage, we provide all the equipment you will need to get started you just need to bring flat soled shoes. There is also a tuck shop on Monday evenings.
More players, beginners, or experienced, always welcome! Club nights are on Wednesdays from 7 pm.
PLEASE CHECK CALENDAR FOR FORTHCOMING EVENTS THROUGHOUT THE SEASON
---
TENNIS PRIZE WINNERS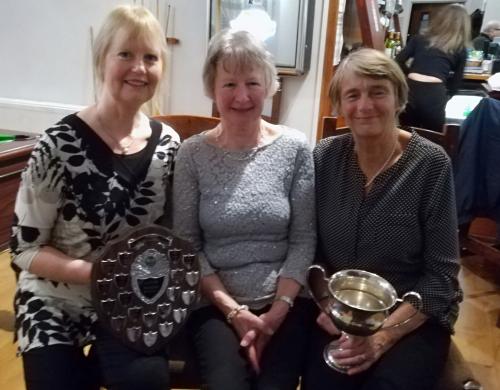 Tennis Ladies Champion and Doubles Winners
Ladies Champion: Liz Gower
Ladies Doubles: Cathy Capewell & Charlie Weall
Tennis Player of the Year: Tracy Burns
---
DRUMMOND TROPHY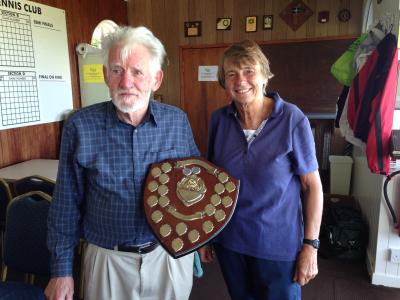 Drummond Trophy Winners 2018
Bill Thom and Liz Gower
The annual Bowling/Tennis Tournament took place on Saturday 8th September
It turned into a good afternoon, followed by a lovely tea.
The winners for 2018 were Liz Gower & Bill Thom.
Congratulations to them & to everyone who entered or helped in any way.
Myra
Secretary
---
JUNIOR TENNIS FINALS
The juniors had a very good season and the weather was kind, they were only rained off once. It was great to see the standard of play improving steadily, especially from the ten new starters. We were lucky to be able to complete all the competitions on the last night of play as it had been a showery day. Thanks especially to Margaret and to all the helpers - Liz, Nic, Jan, Nicola and Gina.
The results are as follows:
Intermediate girls singles: winner - Macy Law, runner-up - Sofia Judd
Intermediate boys singles: winner - Dean Burns, runner-up - Sean Hampsey
Junior girls singles: winner - Meghan McGowan, runner-up - Lucy Jones
Junior boys singles: winner - Charlie Flynn, runner-up - Sam Law
Intermediate girls doubles: winners - Macy Law and Rachel Campbell; runners-up - Sofia Judd and Jessica Baines
Junior girls doubles: winners - Lucy Jones and Evie Els; runners-up - Emma Campbell and Meghan McGowan
Boys doubles: winners - Dean Burns and Sam Law; runners-up - Sean Hampsey and Charlie Flynn
Mixed doubles: winners - Sofia Judd and Sam Law; runners-up - Jessica Baines and Oscar Nitschke
Charlie
Tennis Section
---
JUNIOR TENNIS SECTION
The Junior Tennis Section has been making the most of the good weather and the Monday evening sessions have been well attended.
Junior Tennis players Coaching Session
All eyes on the Tennis Coach
Junior players getting in some practice
Listening to the coach
Ready to Play!
---
SAD NEWS
It is with great sadness that I have to pass on the news of Meg Henry's passing on Sunday 15th April following a brave battle with cancer.
Meg has been "The Tennis Lady" at Innellan since the mid seventies and the Club will miss her dreadfully. She taught so many local youngsters to play the game including my own son who is now 43 years old. So many people have her to thank for spending her time coaching the youngsters and working so hard to keep the tennis courts in order.
I know you will all keep Tom, Graeme, Robin, Janice, Sara & Innes in your thoughts and prayers.
Tom has just advised me that Meg's funeral will be on:
THURSDAY 26th APRIL at 11.30am at Toward Church, then to Inverchaolain Cemetery. Following the cemetery you are invited to attend The Osborne.
It is family flowers only please with donations, if desired, to Cowal Hospice Trust.
Tom has said that a wreath from the Club would be acceptable.
The notice will be in this weeks paper and also in The Herald.
R.I.P. Meg
Myra Campbell
Secretary
---
WORK PARTIES
At the Management Committee Meeting held on Monday 12 March, the following dates were set for work parties to carry out essential works prior to Opening Day.
TUESDAY 20th MARCH - FROM 10.00am
TUESDAY 27th MARCH - FROM 10.00am
SATURDAY 31st MARCH - FROM 10.00am
These times don't mean that you have to be there at 10.00am. Some of you may rather come in the afternoon. You choose, we will be happy to see you whenever you can manage along.
Many hands make light work and we hope that as many members as possible will pitch in and tackle the works required, enabling the Green/Courts & Clubhouse to be ready for Opening Day on 14th April.
There is a list of work which requires to be done before Opening Day. It is hoped that each member – Bowls and Tennis – along with any family or friends who can lend a hand, will make the effort to have a go at some of these works – every little helps and WE REALLY DO NEED YOUR HELP.
These dates are set to encourage work parties, but if you have a spare hour or two on other dates, please go along and do your bit.
Tea & coffee will be available each day - but bring along a sandwich/packed lunch.
If you have any queries please do not hesitate to get back to me.
Thanking you in anticipation.
Myra Campbell
Secretary
---
EGM
Thank you to the 21 members who attended the EGM in the Clubhouse on Sunday 14 January.
This meeting had been called to appoint a new President and Vice President following resignations from the previous office bearers. Past President John (Curly) Black acted as Chairman for this meeting.
Unfortunately, following discussions and several proposals, we were no further forward.
Although this was very disappointing, it was a positive meeting too. Everyone agreed that we have to pull together, with or without these posts being filled.
As a temporary measure, and to bring the Committee to its full complement of 10, the Chairman asked if there were two members in attendance who would join Committee as ordinary members.
Vanda and Andy Brown offered to join Committee and both were accepted.
The Chairman reminded the members that we were still looking to fill the office bearer posts in the near future and asked everyone to think about it seriously.
In the meantime, Committee will meet monthly and continue to do the best for the Club.
IBTC is worth fighting for.
Myra Campbell
Secretary
---