INNELLAN BOWLING AND TENNIS CLUB

News and Events
---
TENNIS COURTS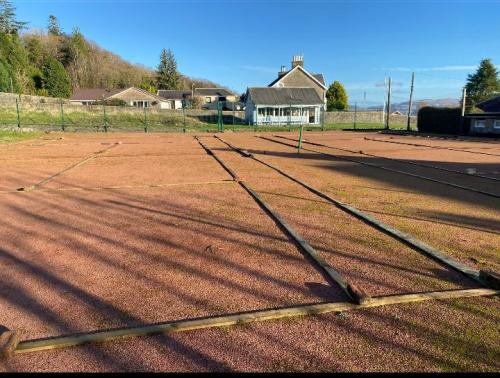 The Tennis Courts are now closed for the season. It's been great that the Courts have been open until now.
Some of the Tennis Ladies have been along the past few days removing the nets & preparing the courts for the close season.
We look forward to our 2024 season for both bowling & tennis.
---
PRESENTATION OF PRIZES
A super night was had by all 24 members & friends who came along to the Presentation in the Royal Bar, Innellan on Wednesday 22 November.
Congratulations to all our winners & all who nearly won & everyone who tried.
Thanks also to everyone who has kept the Club ticking over this season.
Please remember the AGM on Sunday 26th November at 2pm.
Last but not least , thank you to Liz, Danielle & Nicola for looking after us so well & providing a lovely buffet.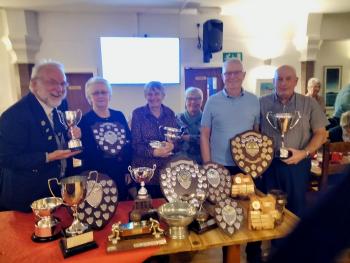 PRIZE WINNERS:-
TENNIS

Ladies Champion - Liz Gower
Runner Up - Cathy Capewell

Ladies Doubles - Winners - Liz Gower & Margaret Lauder

Gents Champion - Jim Morgan
Runner Up - Lewis MacDonald

Mixed Doubles - Winners
Kat Ross & Jim Morgan

Meg Henry Rosebowl - Winners
Liz Gower & Stuart Adams
Runners Up
Helen Waddell & Jaroslaw Michalak

Drummond Trophy (Bowling & Tennis)
Winners - Liz Gower & Jim Morgan

__________________________________________

OPEN TOURNAMENTS

Ladies Triples - Innellan
Winners - Jane Campbell, Lydia Moore & Kat Ross

Mixed Triples - Sandbank
Winners
Myra Campbell, John Gow & Jim Elsby

BOWLING

Ladies Champion
Winner - Karen Prevett
Runner Up - Charlie Weall

Gents Champion
Winner - Jim Elsby
Runner Up - John Gow

Matt Taylor
Winner - Jim Elsby
Runner Up - Andy Brown

Sykes Trophy
Winner - Lynn Lauffer
Runner Up - Ellie MacFadzean

Secretary's Plate
Winner - Karen Prevett
Runner Up - Ellie MacFadzean

Ladies Pairs - Winners
Karen Prevett & Lynn Lauffer
Runners Up - Kat Ross & Myra Campbell

Gents Pairs - Winners
Ian McGrouther & Jim Elsby
Runners Up - Roy Falconer & Peter Webster

President's Trophy
Winner - Jim Elsby
Runner Up - John Gow

Vice President's Trophy
Winner - Jim Morgan
Runner Up - Peter Webster

Wednesday Wappenschaw
Winner - Jim Elsby

Neil McCormack Shield
Winners - Lynn Lauffer & Andy Brown

McLaren Rosebowl
Winners - Karen Prevett & John Gow
---
EXTRAORDINARY GENERAL MEETING (EGM)
Thank you to those members who attended the EGM on 15 October 2023.
The updated Constitution is now on the Home Page of our Website and will be sent to all members by email.
Myra
Secretary
---
FUNDRAISING
QUIZ NIGHT IN THE ROYAL BAR
Elaine & Liz have set up a Quiz Night on
TUESDAY 17 OCTOBER at
7.30 for 8pm
£3pp (teams of 4)
This is being advertised to IBTC members first before opening to others, as tables are limited.
Raffle prizes would be appreciated.
Please let Elaine or Liz know by 30th September if you would like to enter a team.
Thankyou.
Myra
Secretary
---
QUIZ NIGHT
Thank you to everyone who came along to our Quiz on Monday 7 August .
Our wee Club was fair fit to burstin' but they all managed to manoeuvre to the bar.
We had 13 teams & lots of hilarity (mainly from the Dunoon Argyll girls). A big thanks to the 4 gents from Croftfoot BC who came along too.
Special thanks , as always, to our resident Quizmaster, Alison Tarkenter, who once again put on a great quiz with a good selection of topics.
Our winners were The Cardonald Coyotes & Andy's Mum with 114 points, narrowly beating Southern Comfort who scored 111.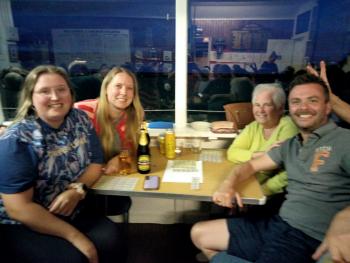 Looking forward to our next Quiz already.
Myra
Secretary
---
2023 - OPENING OF COURTS AND GREEN
The Club opened for the season on Sunday 23 April with an excellent turnout of members, friends & kindred club visitors.
Past President John (Curly) Black handed over to our new President John Gow who welcomed the visitors & introduced Alan McCorquodale, from Upper Cowal BC who spoke on behalf of kindred Clubs. Maggie Thompson delivered the first jack & bowls & the Green was declared open for 2023.
Although it was a cold afternoon we managed to have some tennis & bowling before enjoying a very welcome afternoon tea. Thanks to all the members who provided food & helped with the day & to everyone who provided raffle prizes.
The bowler with the 'first toucher' of the Season was Maggie Thompson & the rink consisting of Georgie Cossar (Upper Cowal), Brian Prevett & Nigel Potts (Innellan) & John Denton (unattached) won the Wappenshaw.
The Club is now open & Wednesday wappenshaws started on Wednesday 27 April with 11 members taking part. Our first Open Tournament (Gents' Triples) will be on Sunday 14 May.
We welcomed a few new members too and hopefully we will encourage more over the next few weeks. We are looking forward to a full season of bowling & tennis and hoping for some nice sunny weather.
Myra
Secretary
---
UK EMERGENCY ALERT SYSTEM
I have been advised by one of our kindred bowlers that the national test of the UK's new Emergency Alerts system will be on Sunday April 23rd at 15:00, which is our Opening day.
The test alert will be sent to most mobile phones across the UK. Devices will make a distinct, siren-like sound for up to 10 seconds, including on phones switched to silent mode. Phones will also vibrate and display a message about the test.
More information can be found at:
https://www.gov.uk/alerts/announcements
At least we will have the Opening Ceremony over by 3pm (if the speeches don't go on too long).
Myra
Secretary
---
SECOND WORK PARTY
We held a second Work Party on Tuesday 4 April with several members turning up to assist with preparations for Opening Day.
Thanks to all who have helped throughout the close season and on both work party days. Thanks to all the others who go along at times convenient to them.
There is still plenty to do and if you have a spare hour or two, please carry on and do what you can.
---
FIRST WORK PARTY
I hope this finds you all well & looking forward to our 2023 Season.
As we all know, the Clubhouse & grounds require 'some tlc' before we open our doors on Sunday 23 April and we plan to have our first
WORK PARTY on TUESDAY
21 MARCH from 10am
Other work parties will follow on & we look forward to as many of you as possible giving your time to help your Club.
Please just turn up & be ready to tackle whatever you are able to do, to make sure we are ready for the new season.
Thank you in anticipation.
Myra
Secretary
---
OPENING DAY 2023
The Club will hold its Opening Day on Sunday 23 April at 1.30 for 2pm.
We hope that the weather will be kind to us allowing us to have a short game of bowls & tennis followed by afternoon tea.
Please provide a raffle prize and a little offering towards the tea table.
All members will receive an email nearer the time.
Myra
Secretary
---
Dear Members
The service for our past member Dorothy McGrouther (Dot) will be held on Tuesday 28 February at 1.30pm at Dalnottar Crematorium. (G81 4SL)
Myra Campbell
Secretary
DOROTHY (DOT) McGROUTHER
I'm sorry to pass on the sad news of Dot's passing on 31 January.
Dot was a popular member & also a Coach before she had to stop bowling just before Covid.
Dot put up a great fight against her illness and passed away peacefully at home.
The Club would like to pass our condolences to Ian and the family.