INNELLAN BOWLING AND TENNIS CLUB
---
Bowling Section
---
Innellan Bowling and Tennis Club aim to provide members with a full Calendar of Bowling events throughout the season commencing on Opening Day through to Closing Day in September. These are made up of a full cross section of games including:
Ladies and Gents Competitions: - all members being able to play at any time of day throughout the week except some Thursday evenings when Gents Hyslop League and Ladies Triples League teams have home matches. There is also a Seniors Mixed Triples League with games being played every second Tuesday morning commencing June. See Events Calendar for dates when home league matches are scheduled.
Championship Singles, President's Trophy, Vice President's Trophy, Secretary's Plate, Gents Pairs, Ladies Pairs, Mixed Pairs competitions - these run throughout the season with Finals Day at the beginning of September.
The Club also hosts one day events either on a Saturday or Sunday throughout the season these include a Gents Open Pairs; Gents' Open Triples; Mixed Rinks; Ladies Day and an annual Friendly Challenge Match against Colintraive BC.
In addition wappenschaws are held on Tuesday evenings (6.45pm start) and Wednesday afternoon (2.00pm start). On Tuesday evenings teams are made up from a ballot of members drawn on the night and play for points throughout the season with the player having the highest number of points at the end of the season being declared the winner. On Wednesday afternoons teams are similarly drawn from a ballot of members but no points are awarded.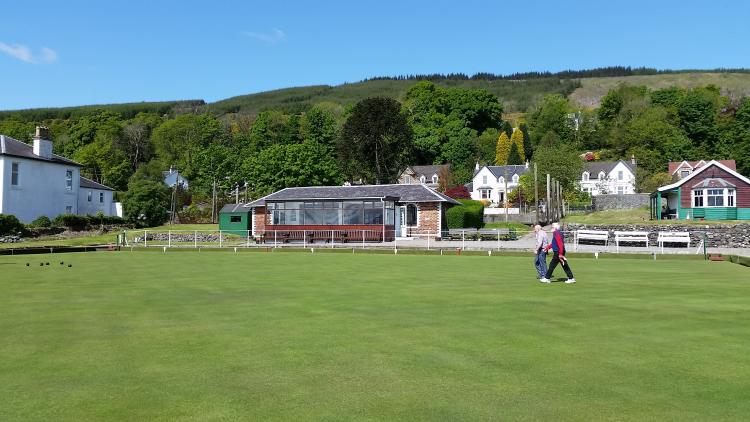 Enjoying Innellan Green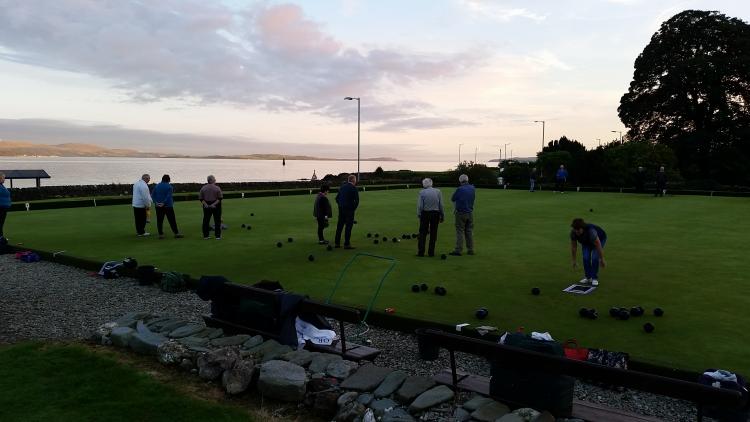 A 'Tuesday Wappenschaw' at Innellan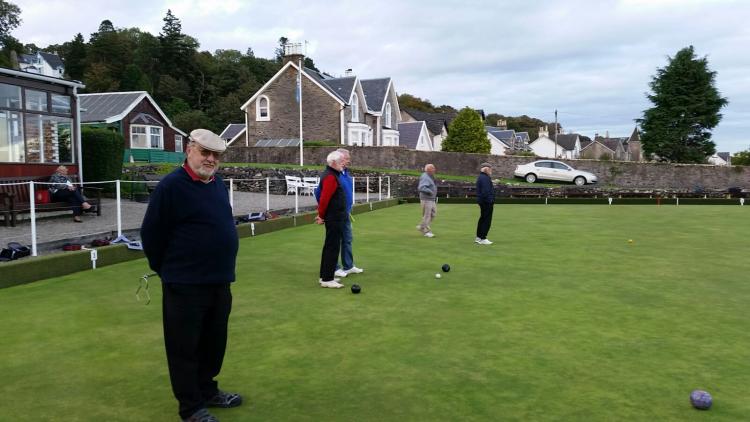 Old Hands on the Green
PLEASE CHECK CALENDAR FOR FORTHCOMING EVENTS THROUGHOUT THE SEASON
---
PRESENTATION OF PRIZES & SUPPER
IBTC held its Presentation of Prizes and Supper in the Clubhouse on Saturday 2nd November.
26 members and friends came along to celebrate the end of the season and have some fun. Ex President David Morrison & his wife Jean joined in too.
It's unfortunate that not everyone can receive a trophy, but it was a good year for the Club and we have to congratulate all our members for trying so hard.
The winners this year are:-
TENNIS
LADIES SINGLES WINNER - IRENE HODGE; RUNNER UP CATHY CAPEWELL
LADIES DOUBLES - WINNERS IRENE HODGE & ANN RHODES
RUNNERS UP - CHARLIE WEALL & MARGARET LAUDER
MIXED DOUBLES WINERS - IRENE HODGE & NIC THORLEY
RUNNERS UP - CATHY CAPEWELL & DAVID ROSS
DRUMMOND TROPHY WINNERS - JAN PENDER & NIC THORLEY
RUNNERS UP - ERNIE SYKES & LEE BURNS
MEG HENRY ROSEBOW - WINNER NIC THORLEY, RUNNER UP LIZ GOWER
PLAYER OF THE YEAR - CATHY CAPEWELL
BOWLING
LADIES CHAMPION - WINNER MYRA CAMPBELL, RUNNER UP VANDA BROWN
GENTS CHAMPION - WINNER DOUGIE LAUFFER, RUNNER UP ERNIE SYKES
MATT TAYLOR - WINNER JIM ELSBY, RUNNER UP NIGEL POTTS
SYKES TROPHY - WINNER MYRA CAMPBELL, RUNNER UP VANDA BROWN
SECRETARY'S PLATE - WINNER KATHRYN ROSS, RUNNER UP VANDA BROWN
PRESIDENT'S TROPHY - WINNER ARCHIE TAIR, RUNNER UP JIM ELSBY
VICE PRESIDENT'S TROPHY - WINNER BILL CURRIE, RUNNER UP DAVE SINGLETON
LADIES PAIRS - WINNERS JAN PENDER & MYRA CAMPBELL, RUNNERS UP CHARLIE WEALL & ANN MACDONALD
GENTS PAIRS - WINNERS SANDY JACKSON & ERNIE SYKES, RUNNERS UP ANDY BROWN & TOMMY MORROW
MIXED PAIRS - WINNERS MYRA CAMPBELL & JIM ELSBY, RUNNERS UP VANDA & ANDY BROWN
TUESDAY WAPPENSCHAW SHIELD - WINNER NIGEL POTTS
NEIL MCCORMICH TROPHY - WINNERS EILEEN BRAND, SANDY JACKSON & ARCHIE TAIT
MCLAREN ROSEBOWL - WINNERS BILL CURRIE, SHIRLEY SYKES & DOUGIE LAUFFER
MOST IMPROVED BOWLER - WINNER KATHRYN ROSS
ESPRIT de CORPS - PRESENTED TO CARRIE O'BRIEN
OPEN TOURNAMENTS
INNELLAN LADIES DAY - BRENDA HIGGS & EILEEN BRAND
COLINTRAIVE LADIES DAY - MARGARET LEITCH, EILEEN BRAND & IRENE MACNICOL
INNELLAN MIXED TRIPLES - VANDA BROWN, ANDY BROWN & TOMMY MORROW
DUNOON ARGYLL MIXED TRIPLES - MYRA CAMPBELL, TOMMY MCDONAGH & JIM ELSBY
Thank you to Di Tait for presenting the prizes and to everyone who attended and provided raffle prizes and helped in any way to make it a good night.
Special congratulations to Carrie O'Brien for going that extra mile for the Club in her own quiet way. You so deserve the Esprit de Corps.
Congratulations to all the winners. We look forward to welcoming you all back next season.
Haste ye Back
Myra - Secretary
---
COLINTRAIVE BC LADIES DAY sponsored by The Scottish Salmon Company
Well, what a day we had at Colintraive on Sunday 6th October, playing for The Anne MacRobert Trophy (Ladies Triples).
9 triples took part from Ardentinny, Dunoon Argyll, Innellan, Lochgoilhead, Rothesay, Tarbert, Upper Cowal & the Host Club, with the format being 4 x games x 6 ends (reducing to 5 ends as the day went on).
The "booby prize" winners today were Liz Simpson, Helen Gilmour & Evelyn Pullar (Skip) of Upper Cowal BC.
The runners up were the Colintraive team of Christine Davies, Louisa Black & Jessie McNaughton (Skip) with the winners of The Anne MacRobert Trophy for 2019 being Margaret Leitch, Eileen Brand & Irene MacNicol (Skip) of Tarbert & Colintraive BC's).
The fresh salmon was won by Christine Davies of Colintraive BC.
Thank you so much to Colintraive BC for their super hospitality throughout the day, to Jessie McNaughton & Louise Black for the lovely soup at lunchtime (& my GF lunch), to Alec McNaughton, Curly Black & Eileen Brand for looking after us all day & keeping the tournament running smoothly. Thanks also to Ernie Sykes & John Wilson for their domestic help. Special thanks to David Gray for the individual wines to each lady (& a special Happy 80th Birthday too.)
Last but not least, thankyou to Danuta Steedman for the lovely dinner following the games.
All in all, a wonderful end to the outdoor bowling tournaments for 2019.
Haste ye Back
Myra
Secretary
---
CLOSING OF THE GREEN/MCLAREN ROSEBOWL
What a lovely day we had for the Closing of the Green.
18 members took part in the last internal tournament of the season.
The winners were Shirley Sykes, Bill Currie & Dougie Lauffer (Skip).
Congratulations to them & to all the others who took part.
Members enjoyed suppers from "Anselmo's" following the game & some home baking & a few refreshments.
It's hard to believe that the season is over.
Looking forward to the Presentation now. Watch this space!
Myra
Secretary
---
CLOSING OF THE GREEN/MCLAREN ROSEBOWL
This Saturday, 28th September sees the Closing of the Green.
All members are invited to play in a balloted Mixed Triples (or Pairs if numbers are low) for The McLaren Rosebowl.
There is a sheet on the notice board in the Clubhouse for names, if you would like to take part.
If you haven't put your name down yet, there's still time.
Please arrive at Club for 1.30 for 2pm start.
Bowling Dress please.
The game will be followed by Suppers from Anselmo's & a wee refreshment.
Looking forward to seeing you there.
Myra
Secretary
---
BOWLING FINALS
The Club held the Bowling Finals over Sundays 15th & 22nd September.
There were some very close games & a lot of good bowling over both days.
The results are as follows:-
Gents Champion - Dougie Lauffer
Runner Up - Ernie Sykes
Ladies Champion - Myra Campbell
Runner Up Vanda Brown
Matt Taylor (Mixed Singles) Winner Jim (James Elsby)
Runner Up - Nigel Potts
President's Trophy - Winner Archie Tait
Runner Up - Jim Elsby
Vice Presidents Trophy - Winner Bill Currie
Runner Up - Dave Singleton
Sykes Trophy - Winner Myra Campbell
Runner Up - Vanda Brown
Secretary's Plate - Winner Kathryn Ross
Runner Up - Vanda Brown
Gents Pairs - Winners Sandy Jackson & Ernie Sykes
Runners Up - Andy Brown & Tommy Morrow
Ladies Pairs - Winners - Jan Pender & Myra Campbell
Runners Up
Charlie Weall & Ann MacDonald
Mixed Pairs Winners - Myra Campbell & Jim Elsby
Runners up - Vanda & Andy Brown
Congratulations to everyone reaching the finals & all taking part.
Thanks to those members who provided soup/sandwiches/cakes on both days.
Myra
Secretary
---
BOWLING & TENNIS TOURNAMENT FOR THE DRUMMOND TROPHY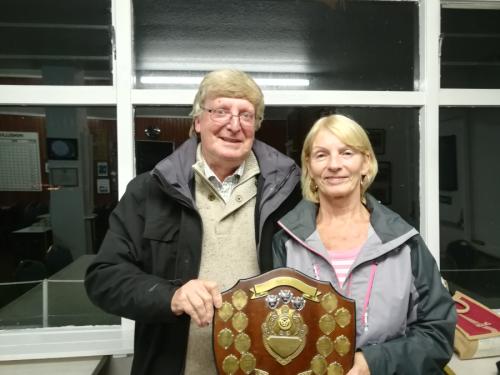 Winners Jan & Nic with the Drummond Trophy
On Saturday 14 September, 20 members played for the Drummond Trophy, this being the only bowling & tennis tournament held each season.
The format was 4 games of tennis & three games of bowls for each pair.
It was great to see Shirley & Ernie Sykes taking part in the tennis & Jim Pender, Cathy Capewell, Irene Hodge & Ann Rhodes taking on the bowls.
A lovely supper was enjoyed following the games, which everyone agreed had been a great success.
Thanks to Jan for organising the day, Dave for manning the bar and everyone for raffle prizes.
The winners, taking the Drummond Trophy for 2019 were Jan Pender & Nic Thorley, Runners Up Lee Burns & Ernie Sykes & Third Place went to Liz Gower & Shirley Sykes.
Myra
Secretary
---
BOWLING FINALS DAYS - SUNDAYS 15TH AND 22ND SEPTEMBER
They say all good things come to an end and unfortunately that's the way it is for the bowling season shortly.
We will be holding two bowling finals days are there are a few members who are taking part in more than one final.
I hope that you can come along to support the finalists and enjoy a little refreshment.
The format is :-
FINALS DAY 1 – TIMETABLE
Sunday 15 September
10.30am
The Sykes Trophy (Ladies Singles) Myra -v- Vanda
The President's Trophy (Gents Singles) Jim -v- Archie
Gents Pairs - Sandy & Ernie -v- Andy & Tommy Morrow
LUNCH OF SOUP/SANDWICHES/CAKE
2.00pm
Mixed Pairs (Vanda & Andy Brown -v- Myra & Jim)
Vice President's Trophy (Dave Singleton -v- Bill Currie)
-------------------------------------------------------------
FINALS DAY 2 – TIMETABLE
Sunday 22 September
10.30am
Ladies Championship - Myra Campbell -v- Vanda Brown
Gents Championship - Ernie Sykes -v- Dougie Lauffer
Matt Taylor - Jim Elsby -v- Archie Tait or Nigel Potts
LUNCH
2.00pm
Secretary's Plate - Vanda Brown -v- Kathryn Ross
Ladies Pairs - Charlie & Ann -v- Jan & Myra or Kat & Lynn
(The 2.00pm games will be subject to the outcome of the semi final of the Ladies Pairs which will be played prior to 22nd).
Myra
Secretary
---
LADIES DAY SPONSORED BY MCLAY GLAZING & DOUGIE CUNINGHAME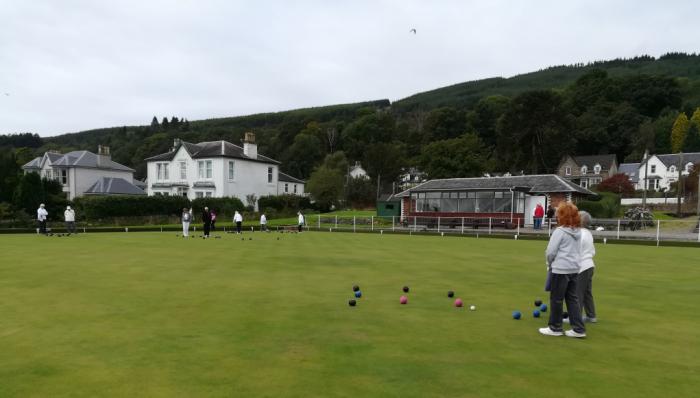 Thanks to everyone who came along to Innellan's Ladies Day in Sunday 8th September from Ardentinny, Bogleha, Colintraive, Dunoon Argyll, Kirn & Hunter's Quay, Rothesay & host club.
One of our bowlers today was all the way from Broadlands, Melbourne, Australia. 88 years young & as fit as a fiddle although I think she'll be happy to get back to her own Green. She found ours slightly heavy but played her heart out. Well done Hannah & thanks for coming to Innellan.
It was thanks to our website that Hannah found out about our tournament & her grandson contacted me requesting that she take part. The power of social media!!
The booby winners were Liz Gower (Innellan) & Mary Briggs (Dunoon Argyll). 4th place were Joan Evans (Ardentinny) & Linda Robertson (Kirn & HQ), 3rd place Cathie Morrison (Dunoon Argyll) & Shirley Chrystall (Ardentinny), Runners Up Dawn Durrbridge (Dunoon Argyll) & Shirley Sykes (Innellan) & the winners for 2019 were Brenda Higgs (Ardentinny) & Eileen Brand (Innellan). Congratulations everyone.
Thanks also to Andrew our Caterer, Dave our barman, Archie for the format & keeping things right & last but certainly not least our men who were SUPERSTARS.
Haste ye Back
Myra
Secretary
---
LADIES DAY - SUNDAY 8 SEPTEMBER
We will be holding our Annual Ladies Balloted Triples on Sunday 8 September, commencing at 10am.
It would be great if some of the gents could help out on the day by serving the food, washing up, setting out the green and generally looking after all the lady bowlers.
The ladies will start arriving at the Green at 09.30 and should be greeted with a cuppa & biscuit. The caterer has been booked and will provide soup and sandwich lunch followed by dinner & desert after the finals.
Its always a good day and I can assure you even the helpers will enjoy themselves.
Thank you
Myra
Secretary
---
DRUMMOND TROPHY (BOWLING & TENNIS)
The Drummond Trophy tournament will be held on Saturday 14 September and it is hoped that more bowlers than usual take part.
The tournament will start at 1.30 for 2pm and it would be great if you could provide a wee plate of food each (home baking/sausage rolls/sandwiches etc) for the afternoon tea.
Even if you dont intend taking part in the competition, it would be nice if some of you could come along to spectate and support the players. If you're not sure of the format, please contact Jan Pender, Nic Thorley or Kathryn Ross to discuss.
Myra
Secretary
---
BOWLING CHAMPIONSHIP DAY
We are holding our bowling championship finals on Sunday 15 September. There will be some games in the morning & then again in the afternoon but no definite times have been set as yet.
Please come along to support the players if you are not in the actual finals yourself.
Please feel free to bring along a light lunch if you intend staying through lunchtime. There will be tea/coffee/biscuits available throughout.
Looking forward to seeing as many as possible on the day.
Myra
Secretary
---
DUNOON BOWLING TOURNAMENT WEEK (THE HARRY GORDON)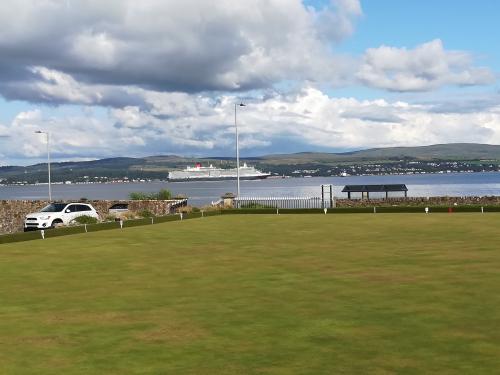 The Queen Victoria passing the Club as we were closing up.
Oh well that's the Dunoon Bowling Tournament Week over for another year.
Innellan played quite a big part in the week with matches on Tuesday, Wednesday and Thursday.
The Club was busy throughout these days with matches at 9am, 11am & 2.30pm. I'd like to thank Carrie & Kathryn for being there with me throughout the week & all the other members who played a big part in helping out by marking, setting out green, cleaning clubhouse, cooking, serving food & drink. It was very much a joint effort & you should all be proud of our wee Club which kept everyone fed & watered throughout.
We had lots of very exciting matches & some excellent bowls played. Most importantly we had sunshine!
The finals yesterday at Kirn & Hunter's Quay BC was an excellent day.
The winner of the Gents Singles (The Harry Lauder Cup) was Stevie Scott from Bogleha BC. The runner up was Shaun Kemp, also from Bogleha.
The Ladies winner was Rebecca Houston from Prestwick BC with the runner up Lorraine Galbraith from Dunoon Argyll BC.
The Gents Pairs winners were Dougie Philand & Donald Crawford from Lochgilphead BC with the runners up Robert Menzies Snr & Jnr from Dunoon Argyll BC.
The ladies pairs winners were Nicola Faulds & Eileen Collings from Bogleha BC with the runners up Christina Cunningham (Bogleha) & Rhona McCourt (Dunoon Argyll).
The junior winner was Euan McLean from Paisley Caledonia BC & the runner up was Rachel Houston from Prestwick BC.
That's us back to normal now, whatever that is :).
Myra
Secretary
---
OPEN PAIRS ON INNELLAN GREEN SPONSORED BY NAN AND JIM COOK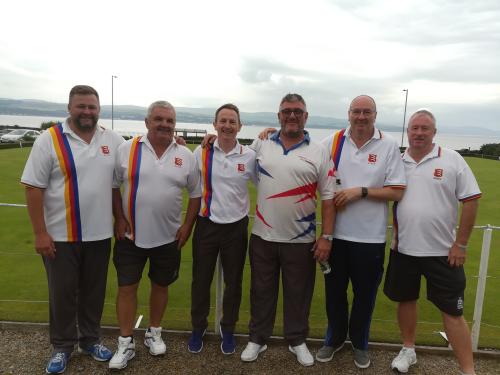 Our Essex Visitors from Wanstead Central BC
We held our Annual Open Pairs (Aka Archie's Pairs) on Sunday 4 August with 24 pairs taking part. We were so lucky not to have any rain, even though Dunoon had quite a few downpours.
The standard of play throughout the day was exceptional & this continued through to both semis & the actual final. All three games were decided by a one bowl (per player) play off.
The beaten semi finalists were Paul Kelly & Ryan Galbraith (Dunoon Argyll) & James Rippey & Mitch from Wanstead Central BC in Essex.
The finalists were Stevie Scott & Stewart McInnes (Bogleha) & Callum Goffin & Rikki McIntyre (Kirn & HQ/Bogleha).
It really was one of those finals when no one deserved to lose but, as we know, it doesn't work that way. Commiserations to Stevie & Stewart & congratulations to Rikki & Callum. It was a fantastic final to watch.
Thankyou to everyone who made it such an enjoyable day, with a special mention to the 6 Essex boys for joining us for the second year.
Last but not least, a huge thanks to Nan & Jim Cook for their sponsorship of the tournament.
Haste ye Back
Myra
Secretary
---
QUIZ NIGHT AS PART OF THE DUNOON BOWLING TOURNAMENT WEEK ENTERTAINMENT
We will be holding a Quiz Night in the Clubhouse on Monday 5 August at 7.30 for 8pm start. Please arrive early to secure a table.
The entry will be ?5 per person which will include supper and prizes for the winners. There will also be a bar & raffle.
Alison, our resident Quizmaster will be testing you all with her mix of difficult/easy/tricky q's.
Looking forward to seeing you there. Please bring along your friends.
Myra
Secretary
---
BOWLING UPDATE
As IBTC is the Host Club for Cowal this season, we have had the following finals on our Green.
LADIES ARGYLL & BUTE DISTRICT FINALS
It was great to host two great games on Innellan Green on Wednesday 3 July in the Ladies A&B District Finals.
Congratulations Eileen Collings (Bogleha) commiserations Lorraine Love Galbraith (Dunoon Argyll) (21-20) What a game!!!
Congratulations Caroline McGuichan, Lorna Anderson & Linda Robertson (Kirn & Hunter's Quay) who beat Cathie Morrison, Allison Strachan & Elizabeth Smith (Dunoon Argyll).
Good luck to the winners in the finals.
(Oh & I nearly forgot, thanks for getting me out 6 times to measure) I believed you that the midges were awful!
------------------
ESSON CUP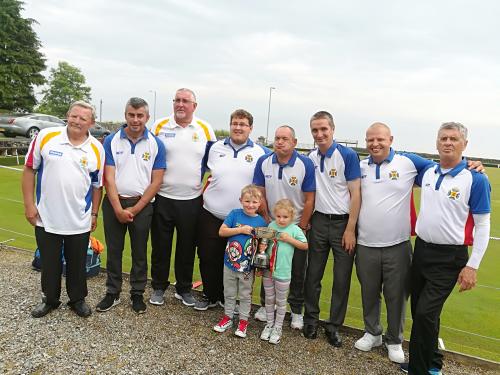 Esson Cup Winners - Kirn & Hunter's Quay
Innellan held the Cowal B.A. Esson Cup on Saturday 29 June. It was a super day with all Cowal Clubs playing 2 x Fours, each team playing 5 games.
We had rain, thunder, lightning & then a few million midges. All the fun of bowling.
The defending champions from Kirn & Hunter's Quay took the trophy again with a resounding win. Congratulations to them & to Innellan as runners up.
The Kirn bowlers taking the trophy home were David Mercer, Ryan Lincoln, Scott Richmond, Callum Goffin, Ian Goffin, Andy Scott, Fraser Pollock & Garry Matthews.
Helping them to carry the trophy back to Kirn again were Amellia & Fraser Pollock.
Well done to our Innellan boys for being the very worthy runners up.
Thanks to everyone for coming along & to Eileen, Lynn, Ann & Carrie for their help.
-----------------
COWAL B.A. FINALS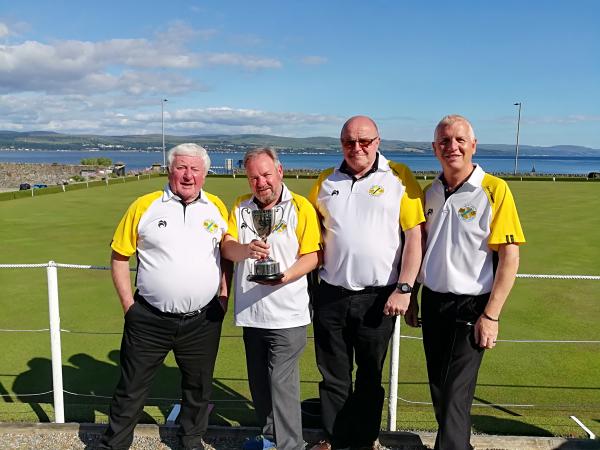 Cowal B.A. Fours Winners
On Saturday 6 July we had 14 finalists fighting it out for the Cowal titles.
We were so lucky with the weather & we must thank the supporters who came along from each of the kindred Cowal Clubs, whether or not they were being represented.
With the singles between Steven Girvan (Dunoon Argyll B) & Stevie Scott (Bogleha A), the Pairs being Dougie Lauffer & Archie Tait (Innellan B) & Eddie Wallace & Jimmy Reid (Kirn & Hunter's Quay A) & the Fours - Jim Campbell, Iain Buchanan, Hughie MacPherson & Stuart Strachan (Dunoon Argyll A) -v- Cameron Boyd, Davie Downie, Callum Galbraith & Billy Kelly (Dunoon Argyll B).
The singles was a great game with Steven G taking an early lead & holding on to it for the first half of the game. Stevie S then started to pull back & was starting to catch up but time was running out & then when Stevie S was lying shot at 20-17, he caught Steven's bowl with his last delivery & it was all over.
Congratulations to Steven G taking the Cowal Singles Trophy for 2019, presented by Innellans' President Curly Black.
The pairs was rather a one sided game with Eddie & Jimmy monopolising the game from the start. Archie & Dougie tried their best but it just wasn't to be their day. The "new" Pairs Trophy was presented to Eddie & Jimmy by Bogleha's President Dougie Whyte (with a vote of thanks to Bogleha for providing the new Trophy).
The fours was a close game right up to the 11/12th end when Dunoon Argyll A pulled ahead of their clubmates & took the trophy. Congratulations to Jim, Iain, Hughie & Stuart.
Dan Whyte, Secretary of the Cowal BA thanked Innellan, as Host Club, for looking after everyone so well & congratulated all the winners & runners up.
He said it was always good to see a new name on the Trophies.
Afternoon tea & a raffle followed the presentation. Thankyou to our visitors & members for providing raffle prizes & thanks to all the helpers.
We hope you enjoyed your afternoon by the seaside as much as we enjoyed having you.
Haste ye Back
Myra
Secretary
---
BOWLS SCOTLAND TIES
Just a wee update on Innellans' journey in the Bowls Scotland Ties over the past few weeks.
Unfortunately we have no one representing the Club at Northfield this year but Nigel Potts did reach the semi finals in the Singles. Congratulations to him.
Myra Campbell made it to the District Finals in the Senior Singles (yet again) but it wasn't to be & she has another Scottish Runner Up Medal.
Well done to them both reaching the latter stages & to all the loyal supporting members who travelled to Victoria BC with Myra.
(We did have a lovely lunch afterwards though).
There's always next year!
Lastly we would like to extend our best wishes to the Cowal bowlers who will be representing their Clubs (Bogleha, Kirn & Hunter's Quay & Upper Cowal) at Northfield.
Myra
Secretary
---
COLINTRAIVE BOWLING CLUB CELEBRATES 25 YEARS
Our friends at Colintraive Bowling Club celebrated their 25th Anniversary on Saturday 15th June.
40 bowlers from Ardentinny, Craigmore, Dunoon Argyll, Innellan, Lochgoilhead, Rothesay, Upper Cowal & the Host Club gathered together to celebrate their special day.
Founder Member Alec McNaughton welcomed the bowlers to this great day & thanked everyone for their support from the beginning.
He then passed to President Curly who explained the format for the day.
A lovely meal was enjoyed before a balloted Mixed Rinks Round Robin took place.
The winners of the Trophy were Margaret Paterson (Lochgoilhead), Evelyn Pullar (Upper Cowal), John Wilson (Rothesay) & Ernie Sykes (Innellan) with the Runners Up Cecilia Ferguson (Lochgoilhead), Jessie NcNaughton (Colintraive), Liz Simpson (Upper Cowal) & Jim Cook (Colintraive).
The lucky Booby Prize winners were Shirley Sykes (Innellan), Jack McFeeters (Lochgoilhead), Jean Currie (Colintraive) & Christine Davies (Dunoon Argyll).
The winner of the Spider was Brenda Higgs of Ardentinny. She was delighted with the Fresh Salmon donated by The Scottish Salmon Company.
Tam MacDonald one of the founder members of the Club presented a beautiful bench to commemorate 25 years and also in memory of his late wife Jeanette MacDonald who had been a stalwart member too.
The Club would like to thank everyone who made this day such a success and to all the sponsors past & present.
Haste ye Back
Myra
Friend of Colintraive BC
---
MIXED TRIPLES SPONSORED BY THE OSBORNE
We held our Mixed Triples on Saturday 08 June, with 42 bowlers on our Green. The forecast had been dreadful all week for Saturday but we were actually lucky in that we had sunshine for the first 4 games, up to lunchtime.
Then it was as though someone had turned on a switch and it got dark, with heavy rain and thunder. From sun lotion to coats, scarves and brollies in the space of ten minutes. It was certainly an interesting day.
We'd like to thank Peter & Elliot of The Osborne for their continued support to our wee Club, Andrew our caterer for looking after us all, all the visiting bowlers from Colintraive, Dunoon Argyll, Lochgoilhead, Rothesay and Upper Cowal, and all our own club members for helping out throughout the day, with special thanks to Carrie.
The winners of Section A - Innellan's Vanda & Andy Brown & Tommy Morrow (Skip) met the winners of Section B -Colintraive's Jessie McNaughton, Louisa Black and Alec McNaughton (Skip) in the final to play for The Osborne Cup, with Innellan coming out on top.
Congratulations to them and to Colintraive for being the worthy runners up. The winner of our Spider today was Bill Strathdee of Dunoon Argyll.
All in all, a great wee day for our club.
Haste ye Back!
Myra
Secretary
---
SAD NEWS - JIMMY McNAIR
It was sad to hear of the passing of Jimmy McNair, a former member, this morning.
Jimmy & his wife Betty were members for some time & both were active in the bowling & social side of IBTC.
The flag will be lowered as a mark of respect for Jimmy.
Condolences go to Jimmy's son, daughter & families.
Myra
Secretary
---
GENTS' TRIPLES CANCELLED
Due to a very low entry from kindred Clubs, our Gents Triples for the George Cameron Memorial Quaich, has had to be cancelled on Saturday 11 May.
We hope to be in a position to reschedule this tournament later in the season, once the County Games are finished.
In the meantime thanks to Rothesay, Kirn & Hunter's Quay & Dunoon Argyll for their support. Thanks also to our own members who were participating.
Myra
Secretary
---
OPENING OF THE GREEN AND COURTS 2019
The Club opened its doors for the 165th time on Sunday 14 April. Susan Selkirk of Rothesay BC spoke on behalf of the kindred Clubs & also delivered the first jack & bowls of the season.
80 members, kindred club members & friends attended, with some of the hardy ones enjoying a game of bowls & tennis before having a very substantial afternoon tea.
We then had a huge raffle (thanks to members & guests for the prizes) & a Guess the Name of the Bunny, kindly donated by Vanda Brown. This was won by Georgie Cossar who chose the correct name "Clyde".
The winners of the wappenschaw were Georgie Cossar, Jim Cook & Dougie Menzies & Dougie also won the first toucher of the season.
Congratulations to them all.
All that's left to say is enjoy your bowls & tennis & please remember to do your wee bit towards keeping the clubhouse -& grounds in good order.
Myra
Secretary
---
OPENING DAY 2019 - SUNDAY 14 APRIL
The Club will open for the Season on Sunday 14 April at 2pm. We look forward to seeing you all there. Some baking &/or a raffle prize would be appreciated.
Weather permitting we will have a little bowling & tennis following the opening ceremony.
---
EXTRAORDINARY GENERAL MEETING
An EGM will be held in the Clubhouse on Sunday 17 March at 2pm. It is hoped that as many members as possible can attend. The necessary paperwork has been sent by email today (February 26th).
---
WORKING PARTY - SATURDAY 02 MARCH at 10.00
If you have a spare hour or two on Saturday 02 March, we would be pleased to see you at the Club. There will be Committee Members there to let you know the jobs required. If Saturday doesn't suit you please go along at your leisure and do what you can. Every little helps!
Thankyou
---