INNELLAN BOWLING AND TENNIS CLUB
---
Bowling Section
---
Innellan Bowling and Tennis Club aim to provide members with a full Calendar of Bowling events throughout the season commencing on Opening Day through to Closing Day in September. These are made up of a full cross section of games including:
Ladies and Gents Competitions: - all members being able to play at any time of day throughout the week except some Thursday evenings when Gents Hyslop League and Ladies Triples League teams have home matches. There is also a Seniors Mixed Triples League with games being played every second Tuesday morning commencing June. See Events Calendar for dates when home league matches are scheduled.
Championship Singles, President's Trophy, Vice President's Trophy, Secretary's Plate, Gents Pairs, Ladies Pairs, Mixed Pairs competitions - these run throughout the season with Finals Day at the beginning of September.
The Club also hosts one day events either on a Saturday or Sunday throughout the season these include a Gents Open Pairs; Gents' Open Triples; Mixed Rinks; Ladies Day and an annual Friendly Challenge Match against Colintraive BC.
In addition wappenschaws are held on Tuesday evenings (6.45pm start) and Wednesday afternoon (2.00pm start). On Tuesday evenings teams are made up from a ballot of members drawn on the night and play for points throughout the season with the player having the highest number of points at the end of the season being declared the winner. On Wednesday afternoons teams are similarly drawn from a ballot of members but no points are awarded.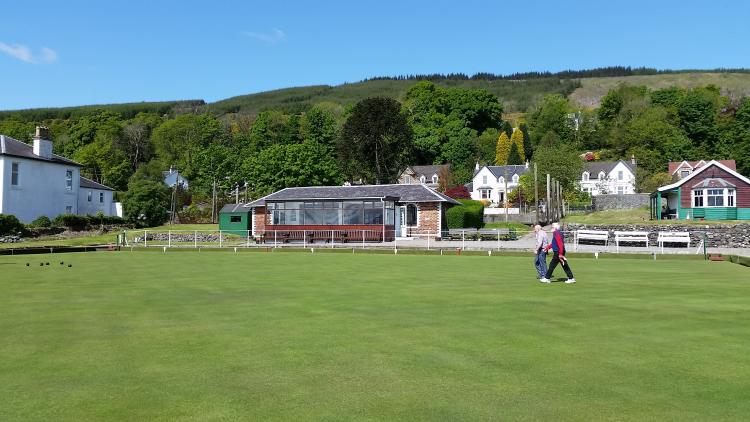 Enjoying Innellan Green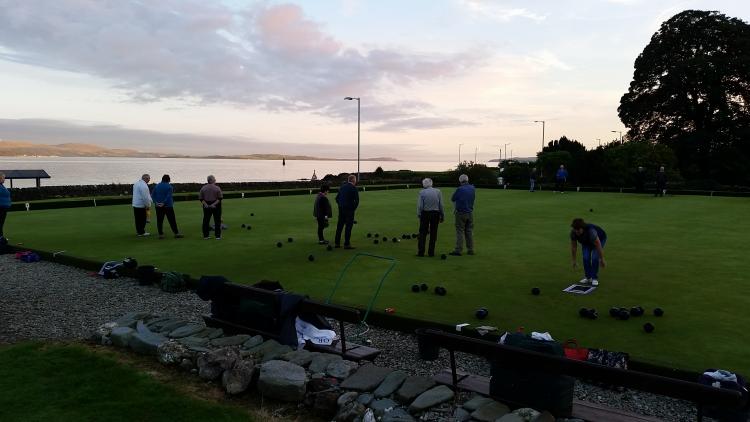 A 'Tuesday Wappenschaw' at Innellan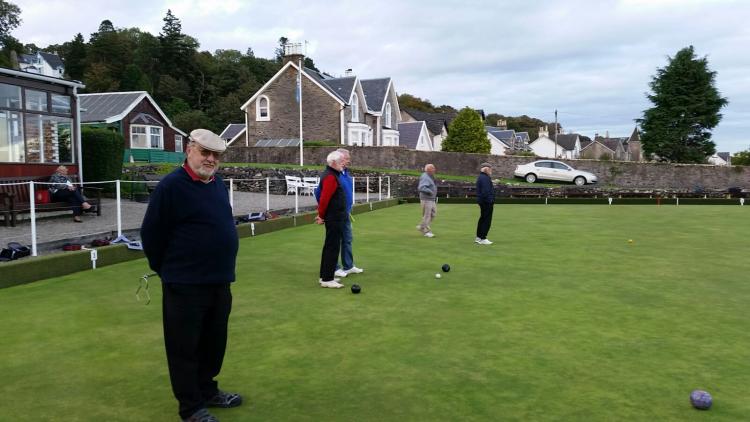 Old Hands on the Green
PLEASE CHECK CALENDAR FOR FORTHCOMING EVENTS THROUGHOUT THE SEASON
---
BOWLING PRIZE WINNERS
| | | |
| --- | --- | --- |
| | | |
| Ladies & Gents Bowling Champions | | Shirley and Ernie with their loot |
| | | |
| | | |
| Gents Pairs Winners | | Argyll & Bute Fours Winners |
Ladies Champion: Lynn Lauffer, Runner Up: Vanda Brown
Gents Champion: Jim Elsby, Runner Up: Nigel Potts
Ladies Pairs: Vanda Brown & Myra Campbell, Runners Up: Charlie Weall & Lynn Lauffer
Gents Pairs: Sandy Jackson & Ernie Sykes, Runners Up: Tommy McDonagh & Jim Elsby
Mixed Pairs: Vanda & Andy Brown, Runners Up: Myra Campbell & Jim Elsby
Sykes Trophy: Lynn Lauffer, Runner Up: Charlie Weall
Secretary's Plate: Shirley Sykes, Runner Up: Vanda Brown
Matt Taylor Trophy: Andy Brown, Runner Up: Archie Tait
President's Trophy: Archie Tait, Runner Up: Dougie Lauffer
Vice Presidents Trophy: Ernie Sykes, Runner Up: Donnie Scott
Tuesday Wappenschaw: Peter Webster, Runner Up: Archie Tait
Neil NcCormick Trophy: Shirley Sykes, Bill Thom & Donnie Scott, Runners Up: Vanda Brown, Dougie Lauffer & Dougie Cuninghame
McLaren Rosebowl: Shirley Sykes Dougie Black & Bill Thom, Runners Up: Ann MacDonald, Donnie Scott & Ian McGrouther
Most Improved Beginner: David Ross
Open Tournaments:
Ladies Triples Innellan: Tracy Burns, Margaret Robinson & Linda Robertson
Dunoon Argyll Ladies Triples: Shirley, Elaine & Bridie
Mixed Triples Innellan: Myra Campbell, Tommy McDonagh & Jim Elsby
Open Pairs Innellan: Eileen Brand & Curly Black
Argyll & Bute 4's: Bill Thom, Archie Tait, Dougie Lauffer & Jim Elsby
Bowls Scotland District Finalists:
Mixed Pairs: Myra Campbell & Jim Elsby
Senior Singles: Myra Campbell
---
DONNIE GALBRAITH MEMORIAL TRIPLES AT COLINTRAIVE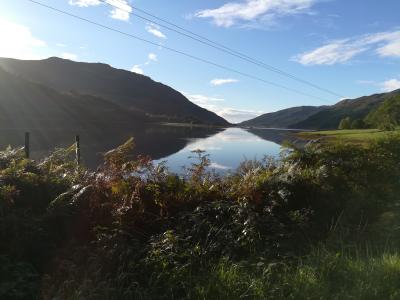 4 triples from Innellan travelled to Colintraive BC on Sunday 23rd September to take part in the annual Donnie Galbraith Mixed Triples.
It was a day full of fun and enjoyment and the weather was very kind to us too.
The winning triple from Innellan was David Ross, Vanda Brown & Dave Singleton (Skip) & from Colintraive was Jean Currie, Roddy Black & Tam MacDonald (Skip).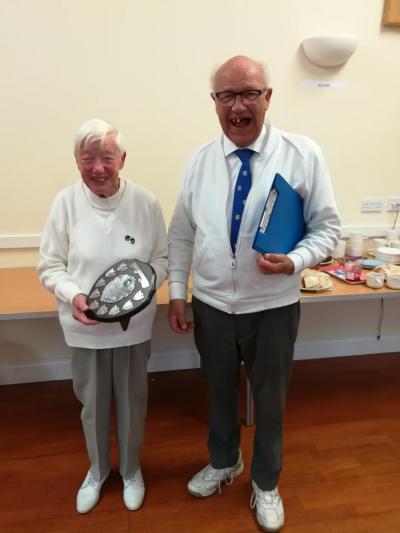 Shield being presented to Colintraive's Nan Cook
The Club with the highest points & shots was Colintraive. The shield was presented to Nan Cook (sponsor) by Colintraive's President Curly Black.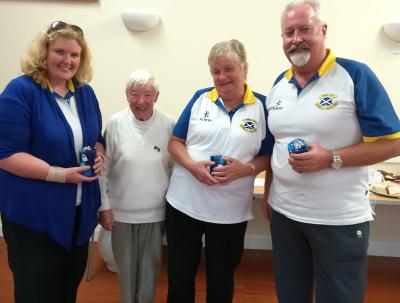 Innellan Booby Prizewinners
The winners of the Booby prizes were Kathryn Ross, Ann MacDonald & Andy Brown(Skip)
Many thanks to Nan & Jim Cook for sponsoring this tournament & to our friends at Colintraive for their hospitality.
Looking forward to next year already.
Myra
Secretary
---
BOWLING FINALS COMPLETED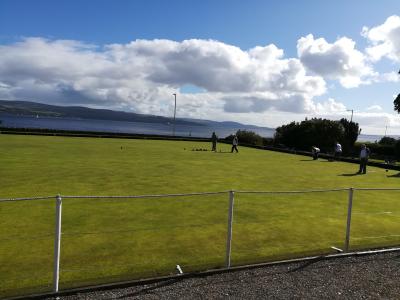 Finals Day 22nd September
We were pleased to have all our Finals completed over two days on Saturdays 15th & 22nd September respectively.
LADIES CHAMPIONSHIP - WINNER LYNN LAUFFER, RUNNER UP VANDA BROWN
GENTS CHAMPIONSHIP - WINNER JIM ELSBY, RUNNER UP NIGEL POTTS
MATT TAYLOR (MIXED SINGLES) - WINNER ANDY BROWN, RUNNER UP ARCHIE TAIT
SYKES TROPHY (LADIES SINGLES) - WINNER LYNN LAUFFER, RUNNER UP CHARLIE WEALL
SECRETARY'S PLATE (LADIES SINGLES) - WINNER SHIRLEY SYKES, RUNNER UP VANDA BROWN
VICE PRESIDENT TROPHY (GENTS SINGLES) - WINNER ERNIE SYKES, RUNNER UP DONNIE SCOTT
PRESIDENT'S CUP (GENTS SINGLES) - WINNER ARCHIE TAIT, RUNNER UP DONNIE SCOTT
LADIES PAIRS - WINNERS VANDA BROWN & MYRA CAMPBELL, RUNNERS UP LYNN LAUFFER & CHARLIE WEALL
GENTS PAIRS - WINNERS SANDY JACKSON & ERNIE SYKES, RUNNERS UP TOMMY MCDONAGH & JIM ELSBY
TUESDAY LEAGUE WAS WON BY PETER WEBSTER
Congratulations to the winners and runners up and a huge well done to all the others:
Myra
Secretary

Ladies Champion: Lynn Lauffer
&
Runner up: Vanda Brown

Ladies Champion: Lynn Lauffer & Gents Champion: Jim Elsby
---
LADIES' DAY, 9th SEPTEMBER 2018 - sponsored by McLay Glazing & Dougie Cuninghame
Well, I really don't know where to start because there are so many people to thank for making Innellan Ladies' Day such a success today.
First of all thank you to all 30 ladies who supported us today from Ardentinny, Colintraive, Dunoon Argyll, Kirn & HQ, Lochgoilhead and our own ladies.
Our men were fantastic, I must say, and nothing was too much bother. We couldn't have done it without their help. Thanks to Andrew who was our caterer today. I think he is a 'feeder' because he just provided so much food.
Thanks to Archie for the format today which kept us all wondering who had qualified.
Thanks to Jim James Elsby for officiating and keeping everyone in order and super thanks to our very well dressed barman Dave for keeping us all hydrated throughout the day.
Super super well done to Tracy Burns (Innellan) for being part of the winning triple with Margaret Robinson (Jim Robinson) (Ardentinny) and Linda Robertson (Kirn & HQ). Tracy is one of our new bowling members and she played so well.
Thanks to my team mates Jeanette Riley (Ardentinny) and Cecilia Ferguson (Lochgoilhead) for us reaching the final. It was a great day girls & well done Jeanette not winning the booby prize.
Congratulations to the third place team of Irene MacAllister (Lochgoilhead), Lorna Anderson (Kirn & HQ) and Shirley Sykes (Innellan).
The booby prize winners today were May Richmond (Ardentinny), Jane Campbell (aka The Bag Lady) (Dunoon Argyll) and Caroline Guichan (Kirn & HQ).
Special thanks to our sponsor today who was Jake McLay and to our own Dougie Cuninghame.
It was a long day but so so worth it.
You're all booked up for next year!!!
Myra Campbell
Secretary
---
LADIES DAY, INNELLAN
Please remember it's Innellan Ladies Day on Sunday 9th September.
The sheet for entries will be on the ladies noticeboard on Monday 20th August.
This is an all day event and we hope we attract good numbers.
We will also be depending on our gents to look after the ladies on the day.
Myra Campbell
Secretary
---
SUCCESS FOR INNELLAN AT DUNOON ARGYLL BC, LADIES DAY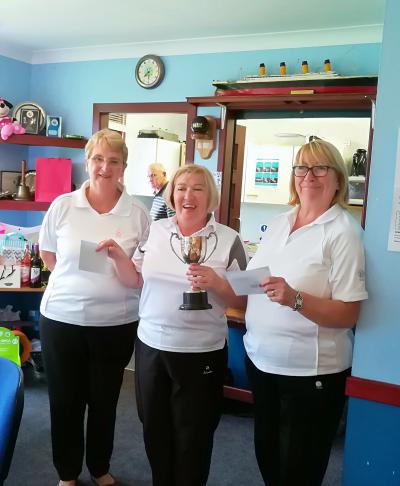 L-R Shirley, Bridie, Elaine - Winners
Shirley Sykes was part of the winning triple at Dunoon Argyll BC's Ladies Day on Saturday 18th August.
Congratulations to Elaine (Croftfoot BC), Shirley (Innellan BC) and their skip Bridie (Kirn & HQ BC) for taking the trophy in an extra end.
It was an exciting end to a great day with an extra end deciding the winners for 2018.
Thanks to Dunoon Argyll BC for their hospitality.
Myra Campbell
Secretary
---
THE VILLAGERS' ROYAL OPEN PAIRS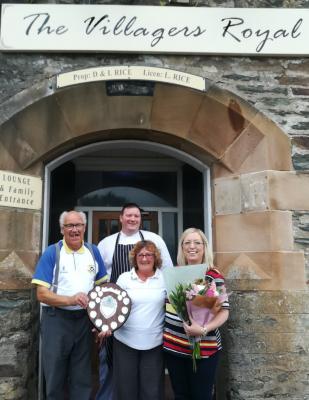 Winners Villagers Royal Pairs, Curly Black & Eileen Brand with the sponsors
Our Open Pairs, sponsored by The Villagers' Royal was held on Sunday 5th August.
This popular competition marks the start of the Dunoon Bowling week and attracts entries from far and wide. This year we had 3 teams from Wanstead Central BC in London and we would like to thank them for coming along to take part.
We would like to wish them well through the week and hope we see them again next year.
This tournament is run on a different format from the normal with bowlers playing in morning or afternoon sessions and the qualifying teams from both sessions going on to a quarter final.
Following some fantastic games the two pairs reaching the final were Willie Wilson & Archie Tait (Innellan & Bogleha) -v- Eileen Brand & John (Curly) Black (Innellan). It couldn't have been a more nail biting final with the score at 6 all going into the last end. It was a very tense last few bowls with Eileen and Curly taking the trophy for 2018. Willie & Archie were left as runners up for the 4th time. Congratulations to all 4 bowlers.
Thank you to everyone who helped out on the day with special thanks to Louise and Dave of The Villagers' Royal for their continued support.
Haste ye Back.
Myra Campbell
Secretary
---
SUCCESS FOR INNELLAN SUPER SENIORS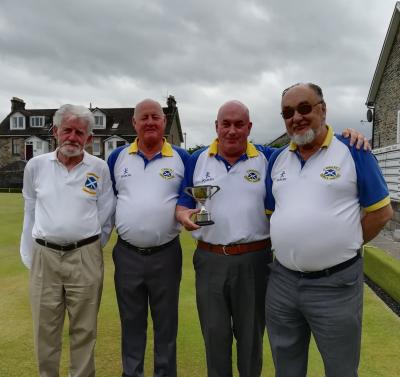 On Saturday 21st July, the finals of the Argyll & Bute Championships were held at Dunoon Argyll BC.
IBTC's Senior 4's Team - Bill Thom, Dougie Lauffer, Archie Tait & Jim Elsby (Skip) took on Campbeltown's seniors and had a very good win.
Congratulations to them and very well done to all teams making it to the final.
Myra Campbell
Secretary
---
IBTC RECEIVES NEW BOWLING MATS FROM CO-OP FUNERALCARE
Colin Pennycook from Co-op Funeralcare attended the Club recently to present us with 6 x Bowling Mats and Scorecards. Our bowling mats were starting to show signs of wear and tear and this is a very generous donation.
It was a beautiful day for Colin's visit. Do we get anything but sun?? Our Acting President John (Curly) Black is seen accepting the mats from Colin.
We would like to thank Co-op Funeralcare for their continued support to IBTC.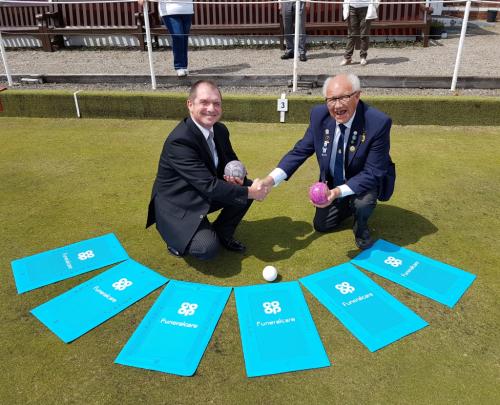 Myra Campbell
Secretary
---
DISTRICT FINALS
The Bowls Scotland District Finals were held on Sunday 17th June at The Grosvenor BC in Greenock. The rain stayed off for most of the day and although there was no actual sunshine, it was pleasant bowling weather.
I lost my Senior Singles to Liz McHugh of Ardbeg BC and went down 21 - 15. We then played our pairs (Jim Elsby and I ) and had a very close game up until our 13/14 end. We then lost 3 ends and even with Jim burning an end to try to give us time to fight back, we unfortunately lost.
I have a lovely collection of Runners Up Medals if anyone is interested.
We'd like to thank The Grosvenor BC for their hospitality and all the umpires and markers who turned out to assist on the day. We'd also like to thank our supporters from Innellan who travelled over to cheer us on. I found it a great experience and certainly enjoyed my day.
We'd like to send our congratulations to Bogleha, Upper Cowal and Kirn & HQ BC's who had winning teams who will go on to represent their clubs at the National Championships at Ayr in late July. Commiserations to the two ladies teams from Kirn who lost out, like us. A great achievement to reach the District Finals and we will all look forward to competing again next year.
Myra Campbell
Secretary
---
MIXED TRIPLES SPONSORED BY THE OSBORNE
| | | |
| --- | --- | --- |
| The 'Spider' in progress at Mixed Triples | | Winner of the 'Spider' is in there somewhere! |
| | | |
| Jim Elsby congratulates Nigel Potts on being 21 again! | | Finalists in Mixed Triples - The Osborne Trophy 2018 |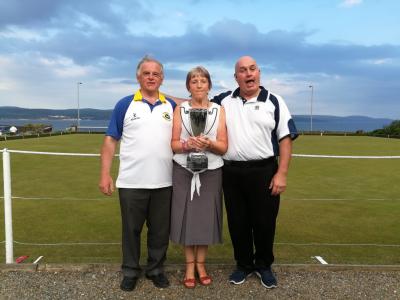 Tommy McDonagh, Myra Campbell, Jim Elsby - Winners of The Osborne Trophy 2018
The Club held its annual Mixed Triples on Saturday 9th June and it was a super day from start to finish.
With a turnout of 19 triples from clubs far and near [Bishopton (3) Bogleha (1), Colintraive (2), Dunoon Argyll (3), Innellan (7), Kirn & HQ (1) and Rothesay (2)], we were very lucky that the sun shone for us.
Peter and Elliot from The Osborne very kindly sponsor this tournament each year and they also catered for our masses. Thank you to them and to our Innellan ladies for providing the soup and sandwich lunch and to all the helpers throughout the day.
A 'spider' was then held with the proceeds going to Parkinson's UK. Archie Tait kindly re donated a bottle won at the last 'Spider'. Thanks Archie.
The teams qualifying for the semi final were Archie Tait, Dorothy & Ian McGrouther (Skip) [IBTC] -v- Myra Campbell, Tommy McDonagh & Jim Elsby (Skip) [IBTC] and Paul Jeffrie, Liz & Harry Smith (Skip) [DABC] -v- Ann MacDonald, Dougie Cuninghame & Dougie Black (Skip) [IBTC & DABC].
The two teams going on to the final were skipped by Jim and Dougie. It was Jim's triple who caught the rink better (especially Jim) and they took The Osborne Cup for 2018.??
Congratulations to them and to the very worthy runners up as well as to everyone who came along and supported the Club.
It was lovely to have a visit from Sandra (Sam Potts' Mum) and to see her looking so well and Roddy and Lillian McDonald.
The next Open Tournament will be the Gents' Pairs on Saturday 21st July.
Myra Campbell
Secretary
---
BOWLS SCOTLAND TIES
Congratulations to Myra Campbell and Nigel Potts who are through to the next round of their respective games in Ladies and Gents Singles this weekend. Also to Myra for reaching the District Finals on Sunday 17th in the Senior Singles. The District Finals this year are being hosted by The Grosvenor BC.
Good luck!!
---
BOWLS SCOTLAND TIES UPDATE
Both Nigel Potts and Myra Campbell went out of their respective single matches on Sunday 10th June.
Well done to them both for reaching the semis.
Myra Campbell and Jim Elsby are through in the Mixed Pairs to the District Finals on Sunday 17th at Grosvenor BC. This followed a great semi at Inverkip BC on 11th June. The Innellan pair going into the last end was 16 - 13 down and were lying 3 shots for a peel when Jim drew a perfect shot with his last bowl to take the match. The midges were in attendance in their droves and were horrendous.
Myra is also through to the District Finals in Senior Singles. Her game will be at 12 noon and Jim & Myra will play their pairs match at 3pm.
The Club wish them well on Sunday.
---
GENTS' TRIPLES – GEORGE CAMERON MEMORIAL QUAICH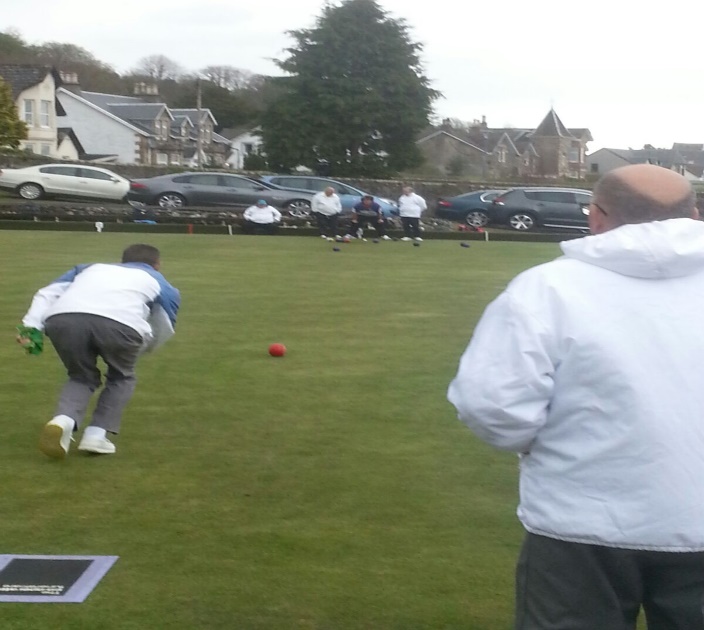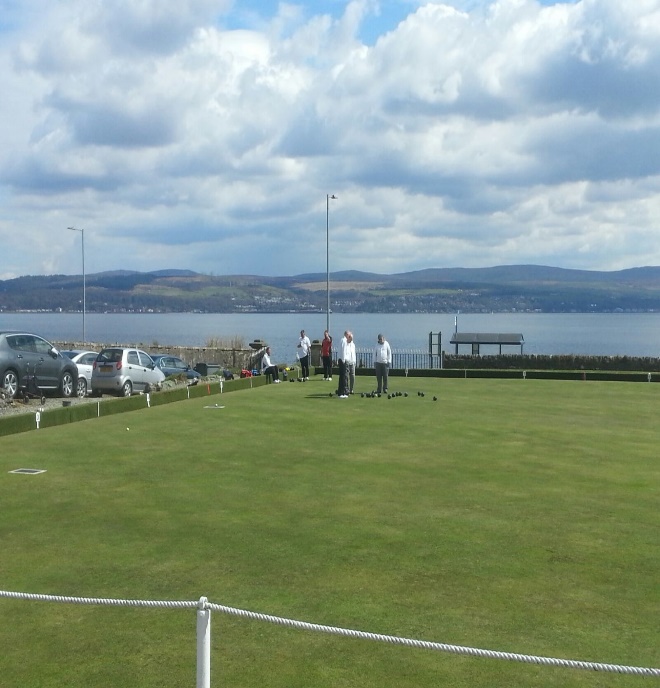 The Club held its annual Gents' Triples on Sunday 29th April, playing for the prestigious George Cameron Memorial Quaich. We were lucky enough to have a beautiful day for our first tournament of the season. Thank you to Nan and Jim Cook and Dougie Cuninghame for their continued sponsorship of this tournament.
Unfortunately, the entry was very poor but we want to thank each and every bowler who turned out on the day, especially those who stood in at the last minute when I was desperately trying to fill places to ensure we had at least 10 triples, yes "10 triples". So sad when you think how many we used to have.
A spider was held for Parkinsons UK with there being a controversial outcome after two false starts. Myron Reid had provided the bottle and this was won by Archie Tait who kindly donated it back to the Club.
The format was two sections of 5 teams, playing four games of 7 ends. The qualifying triples were Willie Wilson, Stuart McIntyre & Rikki McIntyre (Bogleha); Jim Campbell, Dougie Lauffer and Jim Elsby (Dunoon Argyll & Innellan); Harry Smith, Callum Goffin and Stevie Scott (Bogleha'/Kirn), and John Campbell, Tommy McDonagh and Donnie Scott (Bogleha'/Innellan).
Tommy and Stevies' triples went through to the final following two very good semis. Harry, Callum and Stevie took an early lead and with the score at 5 – 1 against Innellan. John, Tommy and Donnie then took one shot in the next 3 ends. With the score 5 – 4, It looked like it may be peels going into the last end but Stevie trailed the jack and lifted 3 shots. That sealed Innellan's fate and the title and trophy deservedly went to the Bogleha/Kirn triple. Congratulations to them and to the Innellan/Bogleha runners up.
Thanks again to everyone who helped to make it such a successful day. We look forward to welcoming you all back during the season.
Myra Campbell
Secretary
NB – Finally just a wee word on Nan Cook who had an unfortunate wee fall in the clubhouse during the final and had to leave without presenting the prizes. Nan assures me she is fine and would like to thank Bridie, Jimmy Reid and myself for looking after her. Main thing is that she is fine, albeit a wee bit sore.
Finalists in the George Cameron Memorial Quaich 2018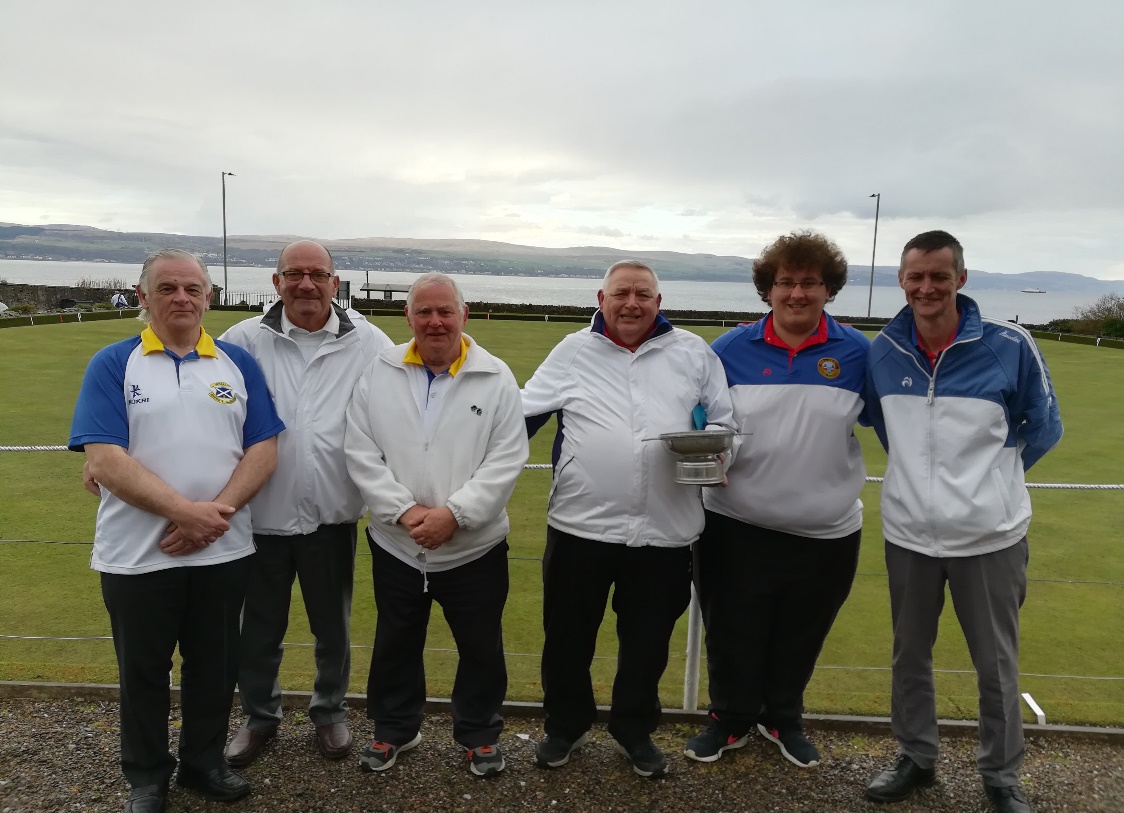 John Campbell, Tommy McDonagh & Donnie Scott (Bogleha & Innellan) and Harry Smith, Calum Goffin and Stevie Scott (Bogleha'/Kirn)
Winners George Cameron Memorial Quaich 2018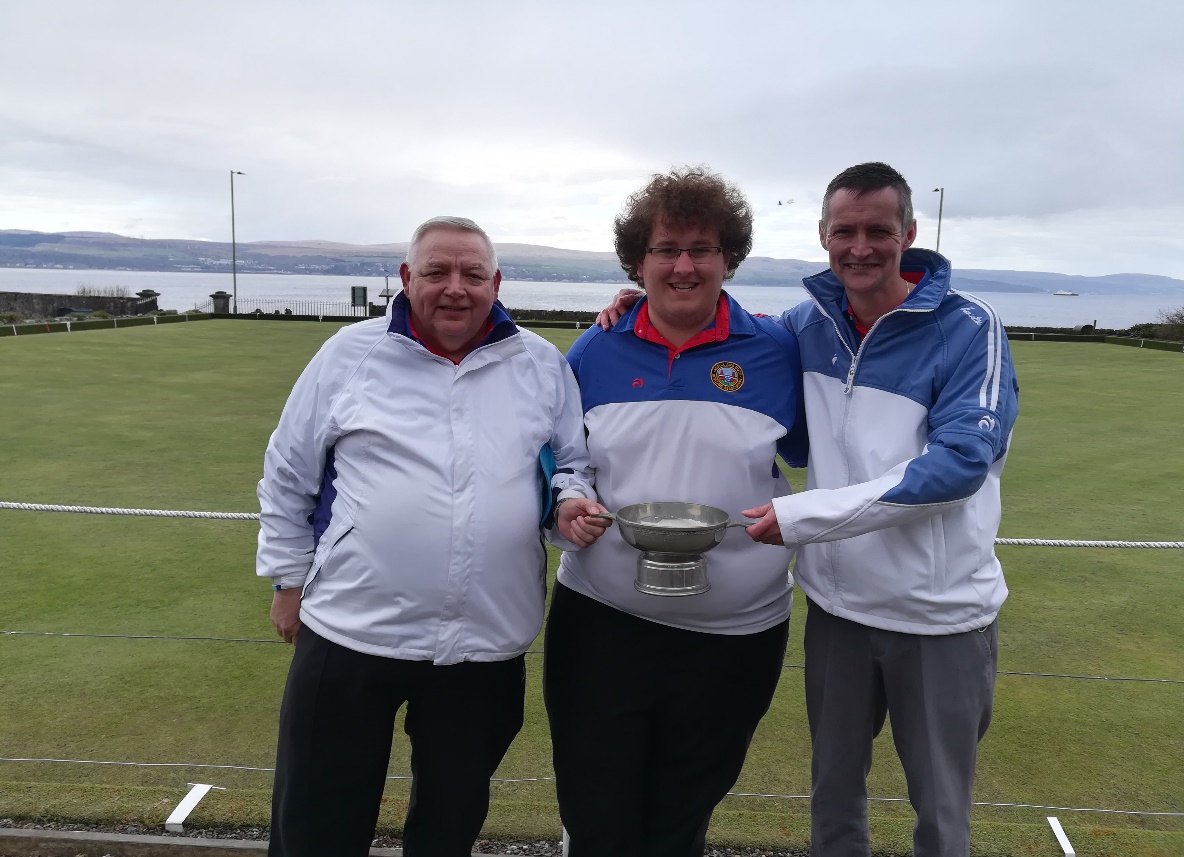 Harry Smith, Calum Goffin and Stevie Scott (Bogleha'/Kirn)
---
Please note that from Tuesday 1st May the wappenschaws will commence at 7pm sharp. Points will be awarded each week until the end of August.
*** IMPORTANT NOTICE ***
PLEASE NOTE THAT ALL BOWLERS MUST ADHERE TO THE NOTICES ADVISING WHICH DIRECTION THE GREEN HAS BEEN SET BY THE GREENKEEPER. THIS IS DONE FOR A REASON AND IS IN THE BEST INTERESTS OF THE WELLBEING OF THE GREEN.
NOTICES WILL BE DISPLAYED ON THE BLACKBOARD OR IN CLUBHOUSE WINDOW AND ALL PLAYERS MUST PLAY THEIR GAMES, WHETHER THEY ARE TIES OR BOUNCE GAMES IN THE DIRECTION SET.
THE NOTICES WILL EITHER READ
SHIP TO SHORE
OR
DUNOON TO TOWARD
THIS IS TO ENSURE THAT EACH AREA OF THE GREEN IS BEING USED.
WE WOULD ALSO ASK THAT MEMBERS REFRAIN FROM ARRANGING TIES ON WAPPENSCHAW EVENING (TUESDAY) OR AFTERNOON (WEDNESDAY). THERE MAY BE A TIME WHEN THIS IS THE ONLY DAY/EVENING AVAILABLE BUT PLEASE TRY TO HAVE YOUR TIES PLAYED AT OTHER TIMES.
THANK YOU
GREENS CONVENOR
---
OPENING DAY 2018 – WAPPENSCHAWS etc
The Club will open for the 2018 season on
Saturday 14 April at 2pm
We hope to have a nice dry day with lots of sunshine and following the Opening Ceremony play a short wappenschaw/game of tennis, followed by afternoon tea/raffle. We would ask you to please provide home baking/savouries or raffle prize.
The Bowling Meeting has been set for
Tuesday 17th April
Weather permitting, this will also be the first wappenschaw of the season and the meeting will be held immediately after this. PLEASE NOTE THAT THE MEETING WILL BE HELD REGARDLESS OF WHETHER OR NOT WE HAVE A WAPPENSCHAW THAT EVENING.
WAPPENSCHAW TIMES
APRIL 17th & 24th - 6.30pm on the Green
FROM 01 MAY ONWARDS - 7.00pm on the Green
Look forward to seeing you there.
Regards
Myra Campbell
Secretary
---
WORK PARTIES
At the Management Committee Meeting held on Monday 12 March, the following dates were set for work parties to carry out essential works prior to Opening Day.
TUESDAY 20th MARCH - FROM 10.00am
TUESDAY 27th MARCH - FROM 10.00am
SATURDAY 31st MARCH - FROM 10.00am
These times don't mean that you have to be there at 10.00am. Some of you may rather come in the afternoon. You choose, we will be happy to see you whenever you can manage along.
Many hands make light work and we hope that as many members as possible will pitch in and tackle the works required, enabling the Green/Courts & Clubhouse to be ready for Opening Day on 14th April.
There is a list of work which requires to be done before Opening Day. It is hoped that each member – Bowls and Tennis – along with any family or friends who can lend a hand, will make the effort to have a go at some of these works – every little helps and WE REALLY DO NEED YOUR HELP.
These dates are set to encourage work parties, but if you have a spare hour or two on other dates, please go along and do your bit.
Tea & coffee will be available each day - but bring along a sandwich/packed lunch.
If you have any queries please do not hesitate to get back to me.
Thanking you in anticipation.
Myra Campbell
Secretary
---
EGM
Thank you to the 21 members who attended the EGM in the Clubhouse on Sunday 14 January.
This meeting had been called to appoint a new President and Vice President following resignations from the previous office bearers. Past President John (Curly) Black acted as Chairman for this meeting.
Unfortunately, following discussions and several proposals, we were no further forward.
Although this was very disappointing, it was a positive meeting too. Everyone agreed that we have to pull together, with or without these posts being filled.
As a temporary measure, and to bring the Committee to its full complement of 10, the Chairman asked if there were two members in attendance who would join Committee as ordinary members.
Vanda and Andy Brown offered to join Committee and both were accepted.
The Chairman reminded the members that we were still looking to fill the office bearer posts in the near future and asked everyone to think about it seriously.
In the meantime, Committee will meet monthly and continue to do the best for the Club.
IBTC is worth fighting for.
Myra Campbell
Secretary
---