INNELLAN BOWLING AND TENNIS CLUB
---
Bowling Section
---
Innellan Bowling and Tennis Club aim to provide members with a full Calendar of Bowling events throughout the season commencing on Opening Day through to Closing Day in September. These are made up of a full cross section of games including:
Ladies and Gents Competitions: - all members being able to play at any time of day throughout the week except some Thursday evenings when Gents Hyslop League and Ladies Triples League teams have home matches. There is also a Seniors Mixed Triples League with games being played every second Tuesday morning commencing June. See Events Calendar for dates when home league matches are scheduled.
Championship Singles, President's Trophy, Vice President's Trophy, Secretary's Plate, Gents Pairs, Ladies Pairs, Mixed Pairs competitions - these run throughout the season with Finals Day at the beginning of September.
The Club also hosts one day events either on a Saturday or Sunday throughout the season these include a Gents Open Pairs; Gents' Open Triples; Mixed Rinks.
Wappenschaws (which will be charged at £2.00 from 2023) will be held on Wednesday Afternoons at 2pm. Teams will be made up from a ballot of members drawn on the day and will play for points throughout the season with the highest scoring member at the end of the season being declared the winner. There may be wappenschaw held on other days but these will be bounce games.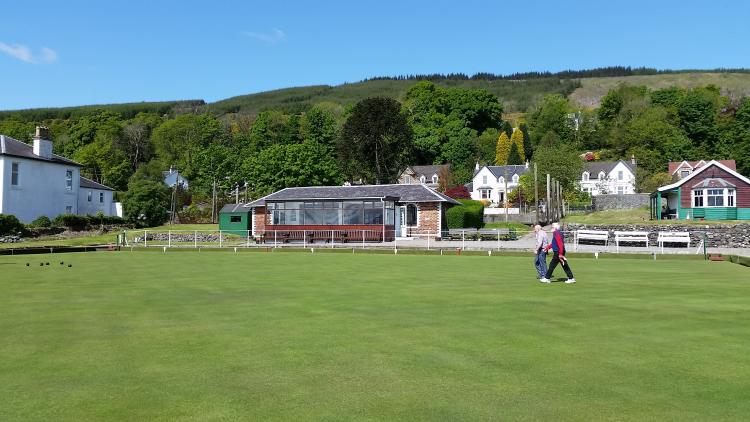 Enjoying Innellan Green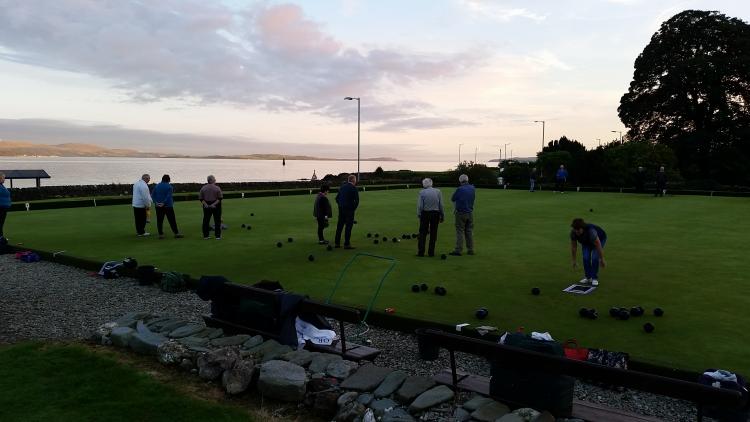 A 'Tuesday Wappenschaw' at Innellan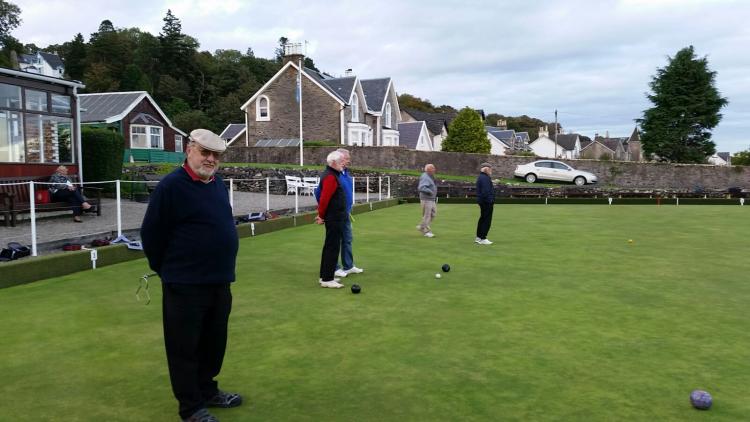 Old Hands on the Green
PLEASE CHECK CALENDAR FOR FORTHCOMING EVENTS THROUGHOUT THE SEASON
---
CLOSING OF THE GREEN
Change of Date
Good afternoon folks, following a discussion with our President today we have made the decision to move our Closing Day (closing of the Green) to Sunday 24 September. Usual time of 1.30 for 2pm.
Please bring a small offering for afternoon tea and/or raffle prizes. There will also be a spider as the bottle has been donated to the Club.
This will take the usual format of a balloted mixed triples (or pairs if numbers are low).
Also we can still continue with our Wednesday Wappenschaws until the end of the month (weather permitting).
Hopefully this is ok with you all. I'll post on Facebook, What's App Groups & email all members too.
Please spread the word! Thankyou.
As stated above, this is the Closing of the Green only and not the Tennis Courts. The Courts should be open for play until late October or when the first frost appears. All members will be kept advised by Liz/Elaine on the Tennis What's App Group.
I'm off to the sun in Italy tomorrow. I'll try to bring it back with me.
Myra- Secretary
NB
Sorry folks, the reason for the change is that 4 or 5 of our male members may be involved in a league game with Indoor on 30 September.
Better to be safe than sorry.
---
DRUMMOND TROPHY
(Bowling & Tennis)
---
'THE PIG' FRIENDLY -v- ARDENTINNY BC
Good morning members & I'm delighted to say our pig is safely settled in Innellan until next season.
Our friends from Ardentinny Bowling Club put up a great fight but with both clubs winning 2 games, it went down to shots & thankfully our triple of Andy Brown , Ellie MacFadzean & James Elsby (otherwise known as oor Jim) had amassed a fantastic score which saved our bacon (oops sorry!) & our pig doesn't have to spend the winter in the depths of Ardentinny.
A super afternoon tea followed the game served by Vanda Brown & Carrie.
Thanks to them & everyone who supplied the goodies & raffle prizes & to Jim Morgan for the fantastic photos.
The season is almost over but we've enjoyed our friendlies with Ardentinny Bowling Club & look forward to many more.
Haste ye back
Myra
Secretary
---
BOWLING FNALS WEEKEND
FRIDAY afternoon
Saw Karen Prevett & Ellie MacFadzean playing for The Secretary's Plate. Congrats to Karen Prevett who played some excellent bowls to come out on top. Ellie put up a brave fight & fought her way back a few times. It was just Karen's day. Congratulations Karen. Well done Ellie too.
James Elsby (Jim) & Andy Brown played for the Matt Taylor Trophy (the one which some call the real Club Championship). Jim scored in the first end & then Andy took over the scoring for quite a while. Jim then came back onto his game & they both fought it out for a good while before Jim took over & lifted the trophy for 2023. Well done to both of them for putting on a great show of bowling for the spectators who were all so happy that they weren't playing in the intense heat.
SATURDAY morning - Roy Falconer & Peter Webster took on Ian Mcgrouther & Jim Elsby in the Gents' Pairs. Everyone was happy that the weather was cooler & they settled in to their game. Ian & Jim found the rink more suitable to them & although Roy & Peter kept at it, they succumbed to their opponents. Congratulations to the winners & Roy & Peter reaching the final.
SATURDAY afternoon saw four games taking to the Green. Unfortunately, the rain which we thought might make an appearance, became quite heavy & with the ground being so dry, it got quite wet & ended up with all four games being abandoned. Lynn Lauffer & Ellie MacFadzean playing for the Sykes Trophy & Karen Prevett & Charlie Weall playing for the Ladies Championship decided to put their games off until another day but Jim Elsby & John Gow who were playing for the Gents Championship & Peter Webster & Jim Morgan, playing for the Vice President's Trophy decided to continue their respective games once the rain went off.
Jim who had been in the lead before the break continued to lead the way, with John finding the rink difficult to catch. Congrats to Jim on being the Club Champion & well done to John being in the final & fighting to the end.
Peter & Jim M were evenly matched before the rain & continued this way throughout the remainder of the game. They were peels on several ends & it was certainly the closest game of the weekend so far.
Jim Morgan succeeded in taking the title with Peter one shot behind. Thanks for such a great game boys. Special thanks to Andy Brown who marked the longest game of the day.
SUNDAY
Another full day of finals & other than one very very heavy shower just as we shook hands, the weather was fine for both sessions.
10am - Karen Prevett & Charlie Weall completed their Ladies Championship which had been abandoned yesterday due to rain, with Karen being crowned IBTC's Champion for 2023. Huge congratulations to her & very well done to Charlie who gave it her best with new bowls. Two years in a row with a new name on the salver.
10am - Mixed Pairs
Myself & James Elsby (Jim) took on Ellie MacFadzean & Archie Tait. Jim & I got off to a good lead, but you never feel safe with Archie's Innellan draws ??. We had to be careful between these & Ellie drawing in her long shots & mostly always having back bowls.
Winners turned out to be myself & Jim & we'd like to thank Ellie & Archie for a good game.
2pm - Ladies Pairs (Karen Prevett & Lynn Lauffer took on myself & Kat Ross. It was a great game with lots of opportunities for both sets of opponents. Karen & Lynn were just in better form & picked up the trophy being 4 shots in the lead after 16 ends.Congratulations to them & thanks to Kat for helping us to stay in the game. Close but not close enough.
2pm - President's Trophy. Jim Elsby & John Gow played for this club trophy with John getting off to a good start. Jim then fought back & the game was nip & tuck for a while. Unfortunately for John, Jim is just on form this year & continued to stay in the lead & lift his fifth trophy.
Congratulations to both of them.
We have one final to be completed. This is the Sykes Trophy which was abandoned yesterday due to the rain. Lynn & Ellie have arranged to complete this game on Wednesday.
Watch this space for the result.
Well done to everyone who marked, umpired, set up the green, cleaned the clubhouse, made lunches & spectated. You all made it a great weekend for the finalists.
Karen & Jim are really deserving Champions.
I'm happy to say there are no bowls tomorrow.
Nite nite
---
INNELLAN LADIES DAY SPONSORED BY MCLAY GLASS & GLAZING
(Click pictures to enlarge)
Without our amazing sponsors we couldn't run these days.
Our caterer Andrew looked after us very well and no one left hungry.
The weather was just amazing & although there were a few 'dodgy wummin' trying to kidnap our Pig, we managed to rescue her just in time.
The top two teams who made it to the final were Sam Potts (Innellan), Joan Evans (Ardentinny) & Vicky Kelly, Skip (Dunoon Argyll) & Jane Campbell (Dunoon Argyll), Lydia Moodie (Ardentinny) & Kat Ross Skip (Innellan).
The final was a great game from all the ladies but there had to be a winner & today the trophy was won by Kat's team.
Huge congratulations to them & the runners up.
Our Booby Prizewinning Triple were Ilene Stokes (Dunoon Argyll), Linda Taplin (Ardentinny) & Babs Parkinson (Rothesay).
Thanks to Shirley & Ernie who provided the bottle for the Spider. Shirley then won it & re-donated it to the Club for another Spider on Closing Day.
Thanks to all our wonderful male members & Ian (who was only here on holiday & worked all day). Special thanks to Archie for working out the format, seeing to the board & cards.
Just thanks to everyone really for making it such a special day.
Not forgetting our friend Olivia Whyte who celebrated her 15th birthday with us.
It was also great to welcome Ann Macdonald along after a long absence. We'll hopefully have her back on the bowling green next season.
We're already looking forward to next year.
Myra
Secretary
---
BUSY WEEK ON THE GREEN
Jimmy Riddell Junior Tournament
We have been very busy this week, starting with our all day Open Pairs Tournament on Sunday 6 August. Thanks to our members Lynn, Sam (& ex member Carrie)for their invaluable help in kitchen & bar.
Then we had the quiz on Monday 8 August which was really packed out. Big thanks to Lynn for manning the bar all evening.
We then had singles & pairs on the green on Tuesday, Wednesday & Thursday, all of which required markers, umpires, catering & bar.
Friday saw us hosting the Jimmy Riddell Junior Tournament with 16 junior bowlers playing a round robin format. Once again we required markers & catering. Archie worked out the format & kept the day running smoothly.
Huge thanks go to Carrie, Karen, Kat & Lynn who worked their socks off with me throughout the week.
President John, VP Dougie, Jim L, Jim E, Brian, John D, Ernie, Peter, Tommy M, thank you all too Also kindred club members who helped us out when we were short.
If I've missed anyone out, I apologize.
If we have all these matches next year it would be great to have a few more helpers, even if it's only for a couple of hours.
A rather quieter week ahead methinks but now we have to get on with our internal ties & look forward to our bowling championship weekend 8/9 September.
We also have Ladies Day, the Drummond Trophy & our closing of the Green (internal mixed Triples) on Saturday 30 September, to look forward to.
Myra
Secretary
---
THE ROYAL BAR OPEN PAIRS
(Archie's Pairs)
What a fantastic day we had at Innellan on Sunday 6 August playing for the Royal Bar Shield. This tournament was kindly sponsored once again by Martin & Liz of The Royal Bar, Innellan.
We welcomed bowlers from Cowal & Rothesay & 10 of our friends from Essex.
The semi finalists were between our Essex friends Paul Woodford & Jack Butcher -v- Neil Jackson & Ray Bone & Ian & Callum Goffin (Kirn & HQ) -v- Myra Campbell & John Gow (Innellan).
Paul & Jack met Ian & Callum in the final & they certainly put on a bowling display for the spectators with them being 'peels' after the bell was rung.
Adhering to the rules, each of the four finalists delivered one bowl to decide the winning pair.
With the Essex boys winning the toss, Jack had last bowl & this was the one to decide the outcome for 2023.
Congratulations to Paul & Jack on winning & Ian & Callum as very worthy runners up.
A mention also to the Bogleha junior bowlers who joined us today (Alexander Buchanan, Ruaraidh Armstrong & Olivia Whyte). Great ambassadors for their Club & pretty good bowlers too.
Huge thanks to Carrie O'Brien & Sam Potts for their full day shift & everyone else who helped in any way to make this day the success it was.
Haste ye back!
---
BOWLING CHAMPIONSHIP FINALS
We have agreed on Saturday/Sunday 9/10th September to play our Bowling Finals.
Please diarise these dates.
Once all games are at Final Stage we will set out a programme of games, times etc.
As some bowlers will be taking part in more than one game, we will play A.M. & P.M. with a break for lunch.
There are at least 10 finals to be played although some may be played earlier/later due to holidays etc.
Myra
Secretary
---
COWAL TIES ON THE GREEN
(click pictures to enlarge)
Wednesday 5 July saw the first round Singles & Pairs for The Cowal Championship being played on Innellan Green.
It was a perfect night with sunshine & just enough of a breeze to keep the midges at bay. The standard of play from the 14 bowlers (from Ardentinny, Bogleha, Dunoon Argyll, Kirn & Hunter's Quay) was excellent to watch.
Congratulations to the winners & good luck to them in the next round.
Myra
Secretary
---
REVIVAL OF 'THE PIG'
For those of you who are new to our 'PIG', this is her in all her glory! (I'm assuming she is a she).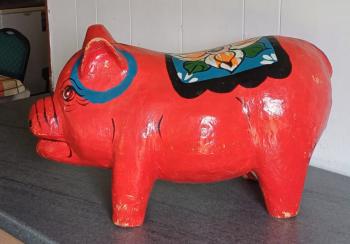 We played for The Pig for many years before she disappeared for a number of years. She spent some time in Archie's loft & she has been looked after by our friends in Ardentinny for a few years now.
The aim of the game is that each bowler puts £1 in The Pig on the day of the game. Whichever Club wins three games in a row holds onto The Pig & claims the cash. Then it starts all over again.
Our Friendly -v- Ardentinny is taking place on Ardentinny Green on Thursday 3 August at 1.30 for 2pm. We are looking for 12 bowlers to make up 4 mixed triples. There is a sheet for names on the main noticeboard in the Clubhouse.
We then hope to welcome Ardentinny BC to our Green one afternoon in September for the second game.
It will be lovely to keep the tradition going.
Myra
Secretary
---
NEIL McCORMACK TROPHY
What a beautiful day we had for our Internal Balloted Mixed Tournament at the Club on Saturday 10 June.
Although our entries were low we had a very enjoyable afternoon playing 4 x 4 games of 4 x ends.
The highest scoring team and taking the Neil McCormack Shield was Lynn Lauffer & Andy Brown.
Congratulations to them & to everyone who took part & provided some goodies towards afternoon tea.
It was lovely to welcome Irene & Andy MacDonald & Di Tait along for a wee visit too.
Myra
Secretary
---
MIXED TRIPLES TOURNAMENT POSTPONED
Committee has decided to postpone, in the meantime, our Mixed Triples Open Tournament which was scheduled to be played on Saturday 10 June.
This is due to the Gents' County Game being played locally in Cowal that day and the feeling is that our entries would too low to justify our holding the tournament.
We are actively looking for another date on the Cowal Calendar and if and when we find one, we will advise you in plenty of time.
It's not all bad news though as we are going to use the date:
Saturday 10 June - 1pm for 1.30 start
to play our Internal Balloted Mixed Triples for the Neil McCormack Shield.
The sheet for names will be on the noticeboard by the end of this week and I would ask that as many of you as possible enter for this fun afternoon.]
Please provide a small token towards afternoon tea (sandwiches/cake/snacks).
Thank you
Myra
Secretary
---
ENTS' TRIPLES SPONSORED BY WESTERN FERRIES (14.5.2023)
(click pictures to enlarge)
Thank you to each & every bowler for making our Gents' Triples such a success.
Huge thanks to Western Ferries for their continued support. We wouldn't be in a position to host these days without them.
Before I congratulate the winners, I must mention our triple of Junior Bowlers from Bogleha. Ryan & Innes Armstrong & Archie Munn, you are a credit to your Club & you certainly gave some of 'the big boys' a fright today. Thanks for coming to our wee Club . We look forward to your next visit.
Now to the qualifying teams. Beaten semi finalists were David Beattie, Ali McLean & Alex Kennedy of Upper Cowal, Stevie Scott Robert Menzies & Callum Goffin of Kirn & H.Q.
The losing finalists after a very exciting game were Jim Morgan, Stewart McNair & Stuart Strachan from Innellan & Kirn & H.Q.
The deserving winners today were Craig Houston, Stevie Girvan & Jim Campbell of Dunoon Argyll.
The booby prizes went to Roy Falconer, John Devine & our very own Mr President John Gow.
David Cameron of Kirn & H.Q. won the Spider, kindly donated by President John Gow.
Thanks to all of our helpers today. I always worry we'll be short but you never let us down. Too many to mention.
Haste ye Back
Myra Campbell
Secretary